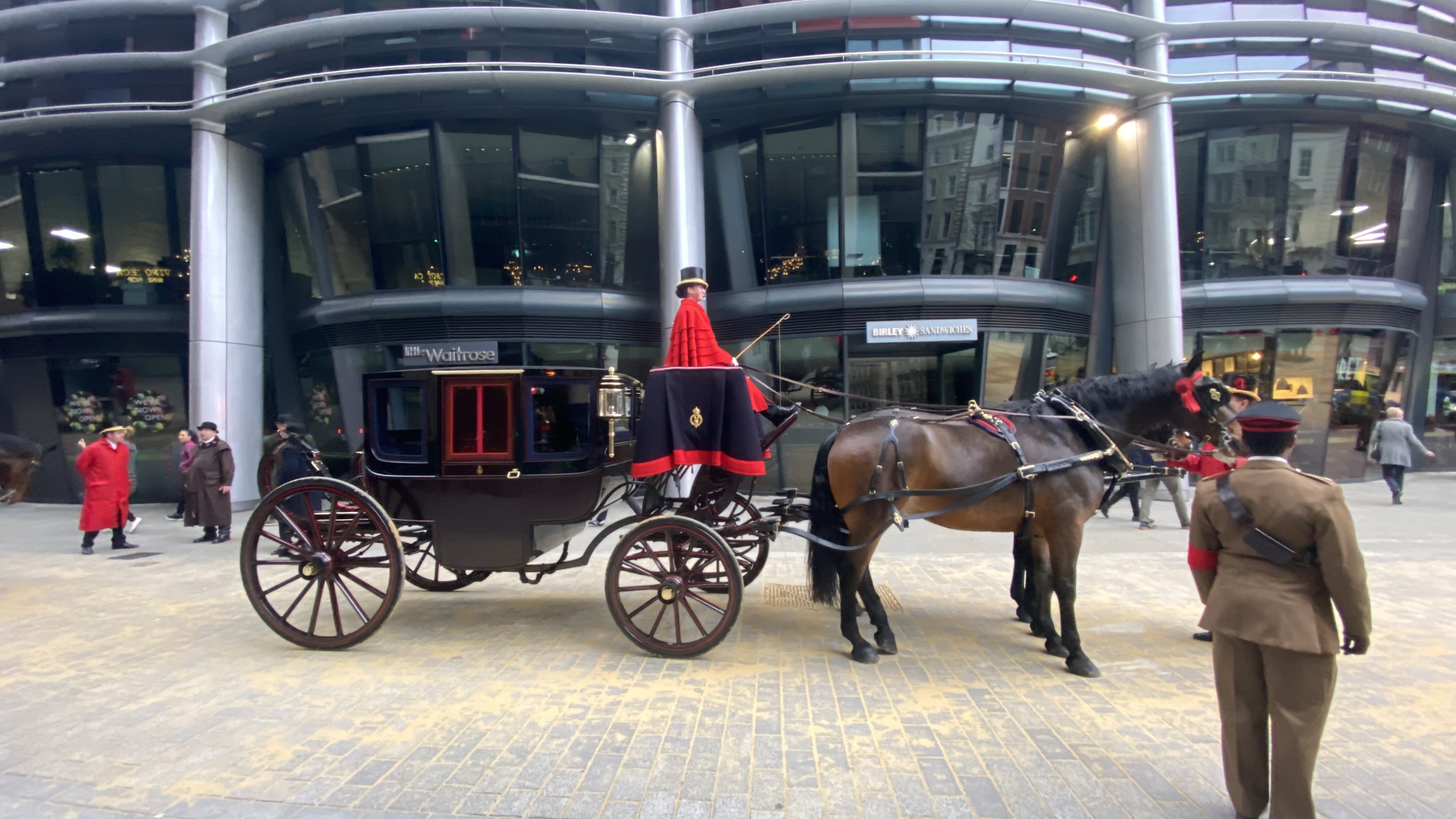 Minerva Chapter 6 | London
-

18 mins
A quick recap of what my semester in London looked like at Minerva outside of academics. For me to remember and for you to enjoy.
September
The semester in London had arrived! Ever since Freshman year I had looked forward to this moment. I couldn't believe I would have the opportuntity to show my friends around my life before I came to Minerva. At this point, I have three different parts of my personality: the American Alexander who grew up in Charlotte NC, the British Alexander who went to Eton, and the start-up/tech Alexander who is at Minerva. As I grow older, these varied chapters of my life seem to collide in amazing ways. This was one of those times.
Given I spent the summer in London working at Amazon, I really did feel my British side coming out again. Since the start of university and with COVID-19 altering my typical London lifestyle, I hadn't felt this feeling in a while. Fortunately, summer 2021 allowed me to reconnect with old friends, explore parts of London that I hadn't seen before, and discover a newfound appreciation for the city and its people. Also, the transition from my full-time job to being a student again was interesting. I wasn't prepared to move backwards; from being an adult with so much autonomy to treated like a child once more. Alas, this is what happened when the Minerva semester started – and to say the least, it was slightly frustrating.
My first two weeks of the semester were spent at home due to COVID policy. All students arriving internationally, including my friends, had a 14 day quarantine despite UK COVID regulations saying otherwise if they were vaccinated (and they all were). This, as with many things, was a result of Minerva trying to cover their ass. As a newfound university, and recently accredited(!), Minerva always treads lightly when it comes to being a US university in a foreign country. It is simply the nature of the beast.
So, the first 2 weeks of September I spent at home. It was really enjoyable because while I had been in London for a while, realistically I had dove straight into my job at Amazon for 16 weeks of the summer, then had a quick break in Corfu with family, and then finally had these two weeks in London to slowly settle into classes before too much fun started.
Fortunately, one of my best friends at Minerva – Petter – who I hadn't seen in a while due to life circumstances was in London and a free man too. Petter came over for the last house party my brother, sister, and I threw for the summer with various friends from our different circles. I have a distinct memory of him arriving at my front door. It had been too long.
Petter and I also arranged to go to a comedy show in Cavendish Square Gardens. It was being hosted by Uber and featured four up-and-coming comedians. While I don't watch live comedy very much, it was a refreshing breath of fresh creativity.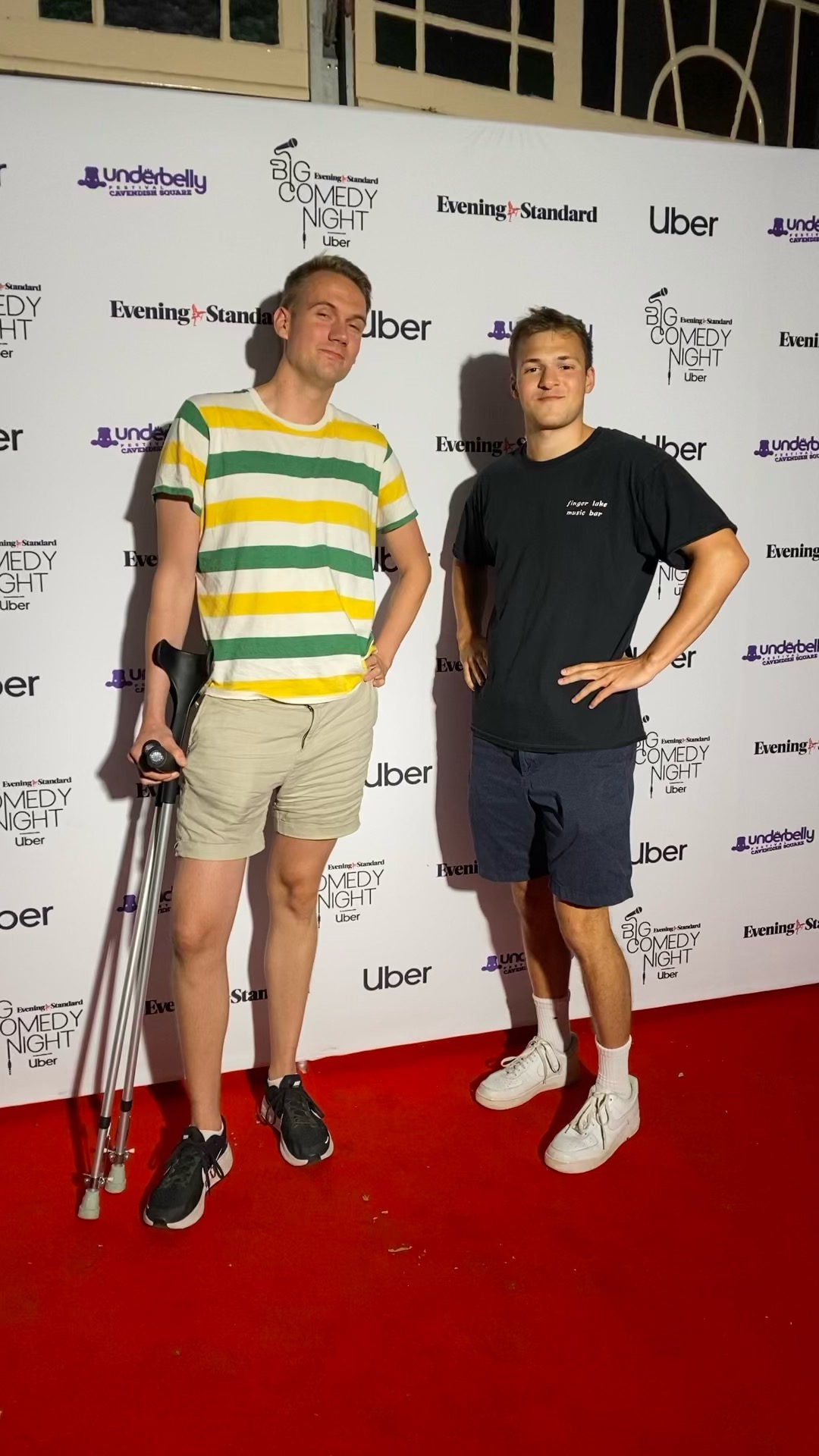 Petter and me at the comedy show!
Finally, I moved into my flat with my Minerva friends. We were in a 7-bed apartment. Three rooms, 2 triples and a single. I was in one of the triples with Amenti and Manny. While it may have been quite the squeeze, I knew this was going to be one of the last times I would be able to live like a college student and so I fully embraced it. Ajaydip, one of the other triple room members was unfortunately stuck in Kenya due to COVID vida restrictions, so it ended up just being 6 of us. Honestly, this apartment was an absolute vibe. My friends and I had a great time living together throughout. We had very few arguments, so much banter, and really experienced what the London university student life was all about.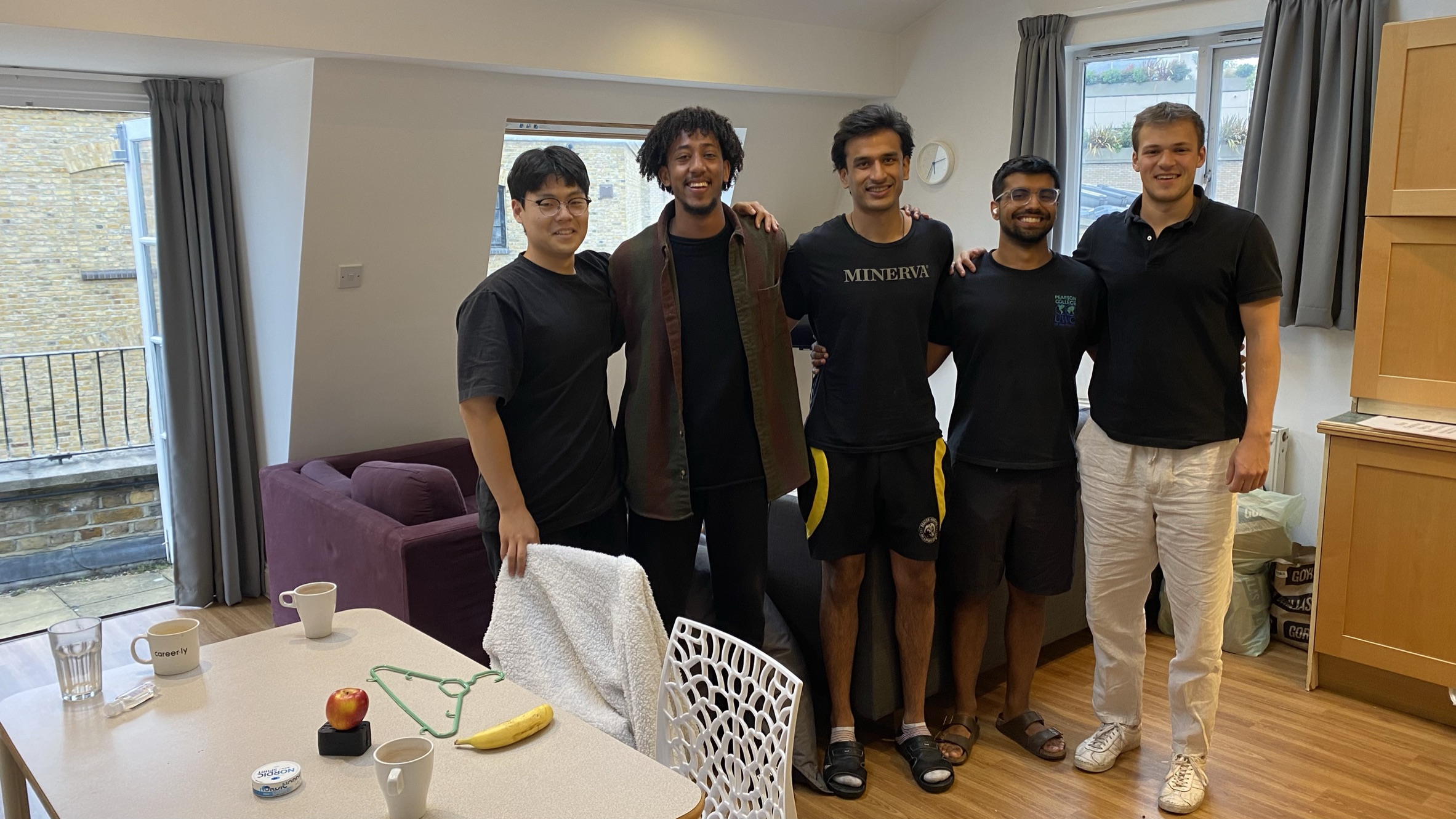 Just missing Petter here. The squad of Flat 14!
As the fun began, so did the recruiting season. That first week after moving in I had various interviews and other job application assessments. This soon became a big part of my semester. I'll be honest, writing this with now a job in-hand(!), I tend to forget all of the sleepless nights I had. It was pretty brutal. I was doing consulting, data science, and software engineering interviews all at the same time. Towards the end of September, I had to learn how to case interview for a Bain final round within 1 week (getting to the first round was unexpected so I hadn't case prepped much). I also had a 4 day take-home data science challenge for Blackstone. It was annoying because I wanted to spend time with friends and focus on projects that excited me, especially Web 3.0 at this stage, but instead I had to trudge through these gruelling interview stages.
Despite the grind, fun times were still had! We went on a pub crawl as a way for me to show my friends our new part of the city and introduce them to some of my British friends who were still around before leaving for university. We explored Chinatown and Soho, I brought Petter to the Royal Automobile Club, and I took a lot of my friends to the west side of London to see my family home. We also went to Parliament Hill one afternoon in Hempstead Heath and played spikeball. It was a great way to start the semester, settle into Clerkenwell (the new part of the city I was living in), and spend time with friends.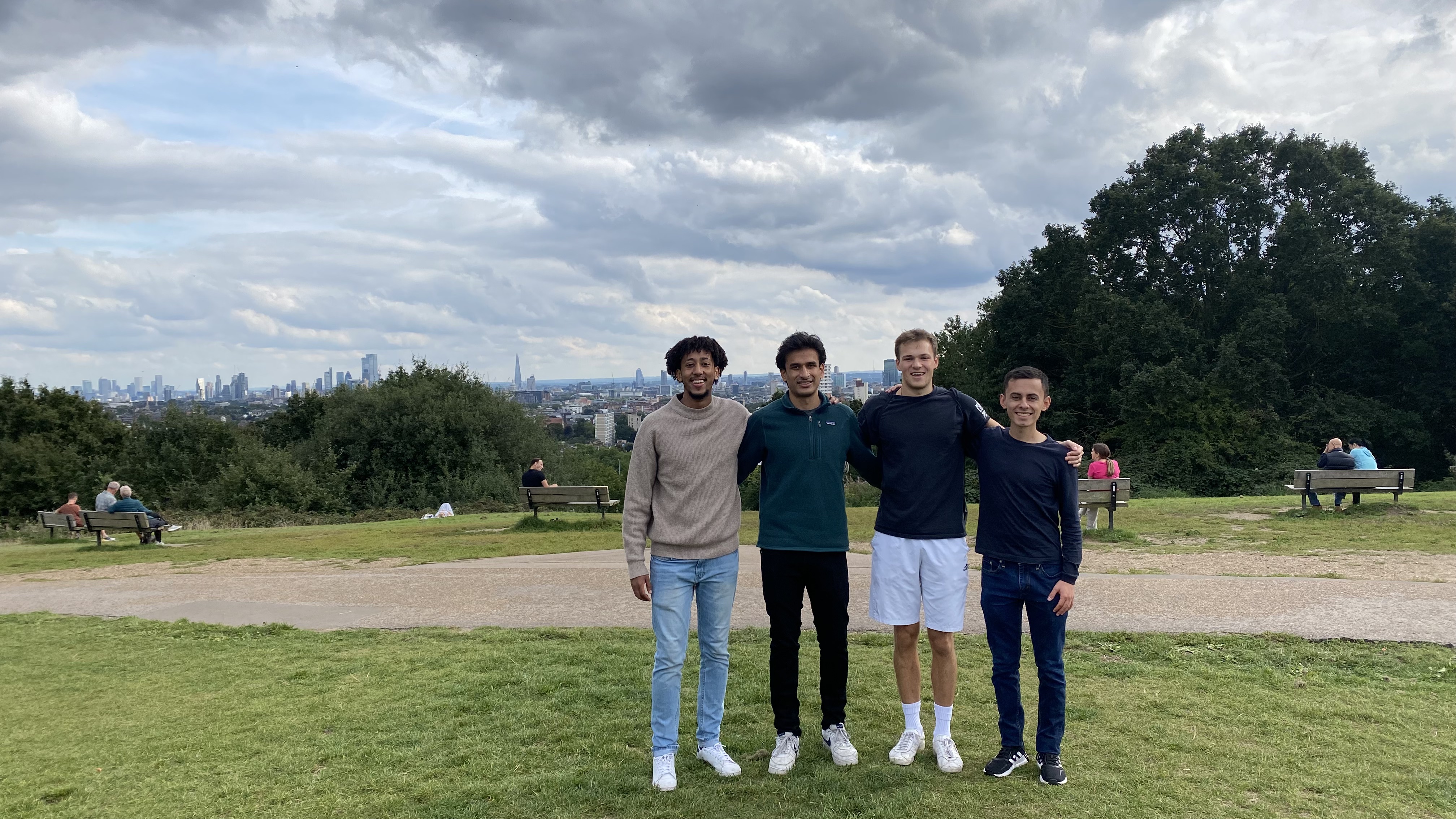 The roomies of Flat 14 and Jose on Parliament Hill just before engaging in a competitive game of spikeball.
Amenti and I also had some wild adventures in this first month. I joined this international club of young professionals called YNG and invited Amenti along to the opening event. We had a brilliant time hanging out with a bunch of new people we met that night. We also went to a Slowthai concert in Kingston. He is a British alternative rap artist. I hadn't listened to that much Slowthai, but Amenti had so I tried to listen to a lot of his songs the week before and we sent it out to Kingston on a Friday night. It was wild. Insanely big mosh pits and one of the sweatiest venues I've been in. A great workout and release of pent up energy from the interviews.
October
As per usual with Minerva semesters, time sped up. At the beginning of October, Oliver came to visit. To celebrate, we arranged a fun day out with all of our friends. Randomly, the one condition we decided upon for our "day out" was to get dressed up in suits. It was such a fun time. We went to brunch, shopped in Camden market, went to a comedy show, and then had a night out in Piccadilly Circus.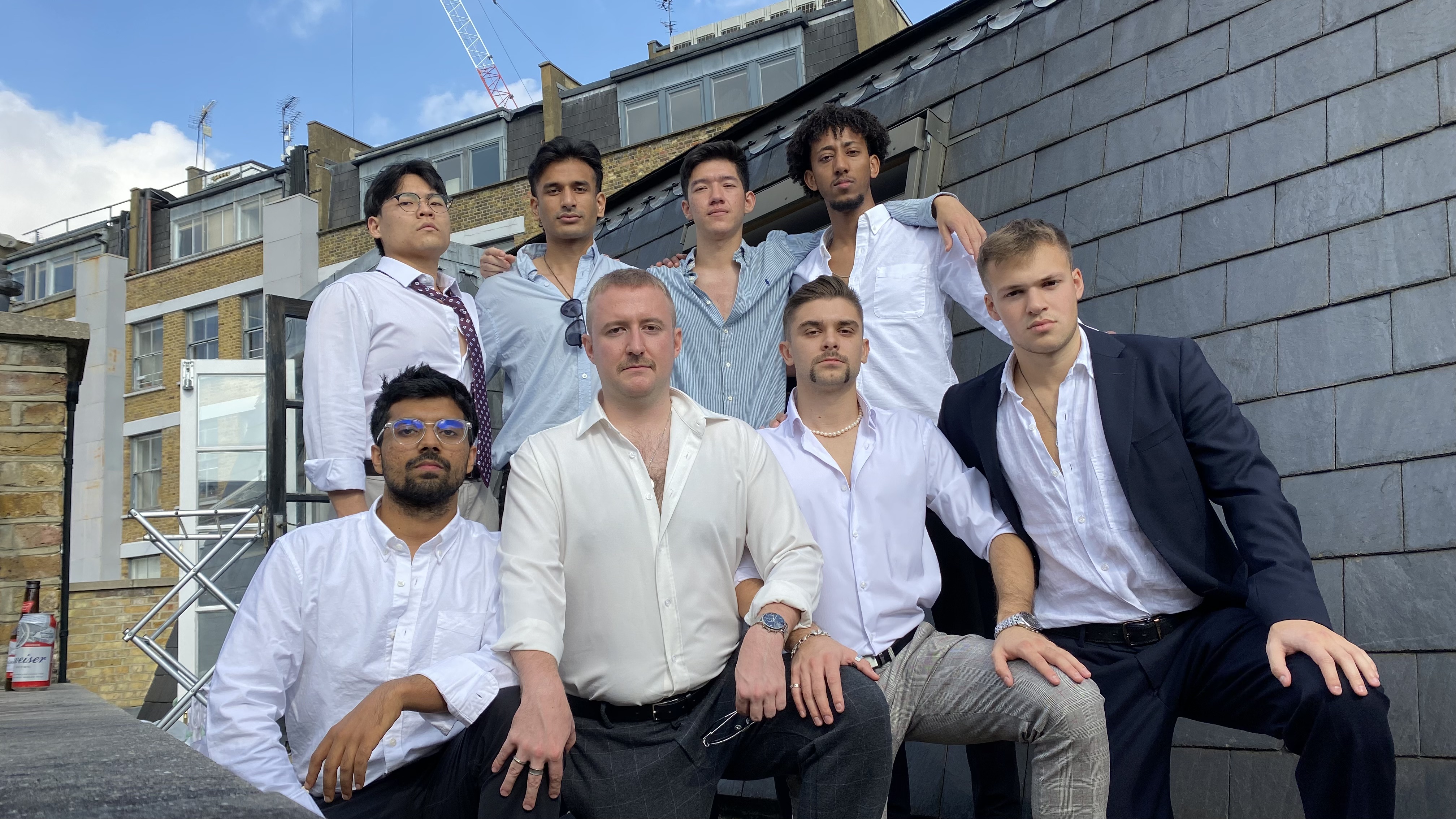 Our guy friend group assembled. A lot of fun was had in the city that day.
Much of my free time was spend working on job applications. The first round of interviews hadn't worked out, so I was trying doubly as hard for the next ones. Bloomberg, Oliver Wyman, BCG Gamma, Twitter, etc. It was stressful but I was definitely getting better. My resume was refined to the T. My cover letters were targeted and personal. I knew I could behaviourally do great in interviews, so I progressively refined my analytical and technical communication skills.
One day I fondly remember in particular wasn't planned at all. I woke up with a lot of energy on a Sunday morning and asked my friends if they wanted to go for a walk. Junyoung and Amenti were keen, so we set off south of our apartment. We walked ended up walking for about 5 hours! We went down to St. Paul's Cathedral, the Millenium Bridge, the Tate Modern, along the river, past the skate parks, Jubilee Gardens, the London Eye, through Westminster with Churchill and Big Ben, and finally up to Chinatown, past Trafalgar Square. All the while we were taking photos, giggling, and just enjoying the sun and London at its finest.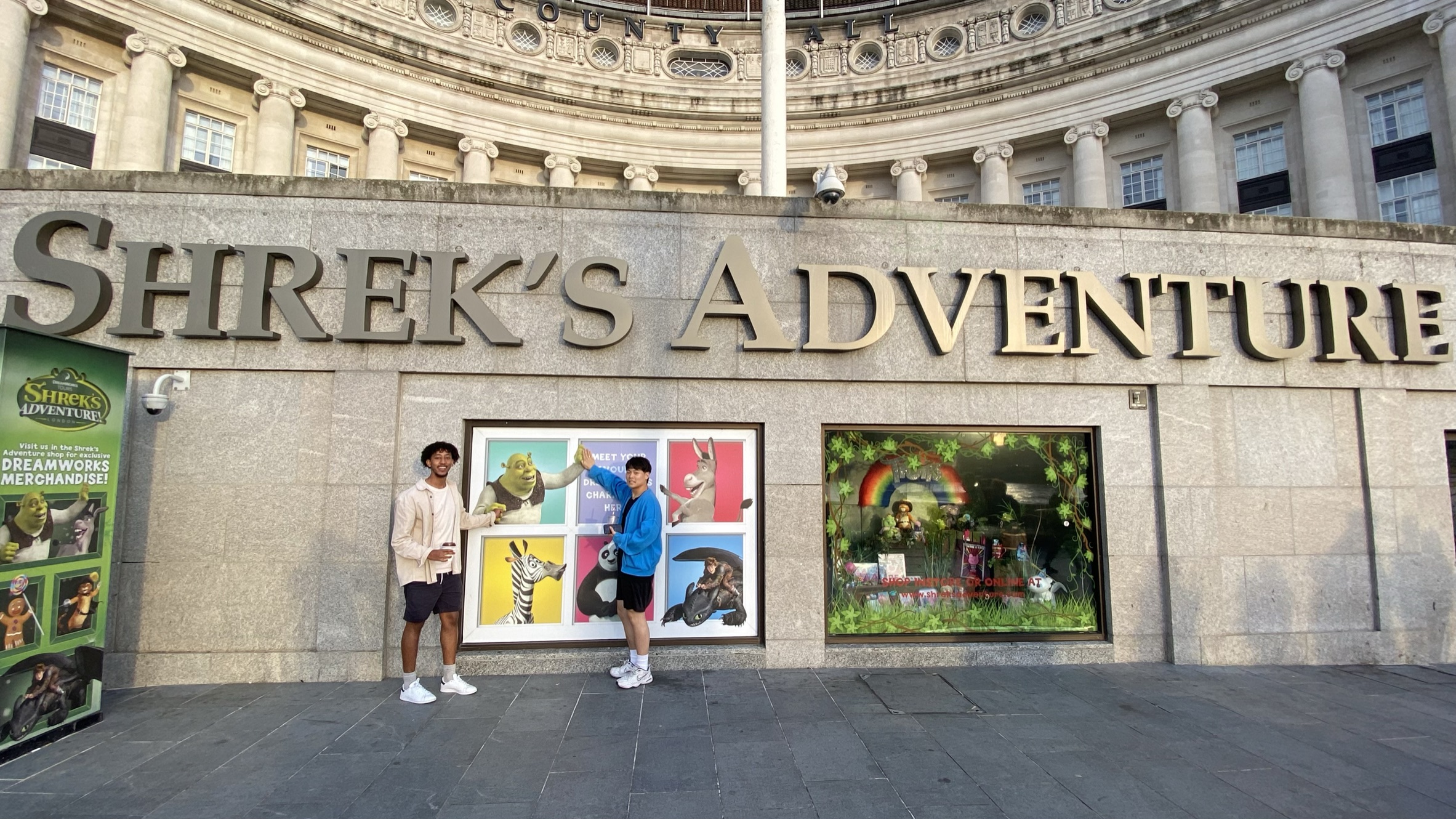 Junyoung and Amenti outside Shrek's Adventure, one of the world-reknowned wonders of London...
Later in the month a few more fun, memorable events happened. Petter came with me and my parents to see The Rocky Horror Picture Show, which was a wild comedic musical with transvestites and other intriguing characters! It was a memorable time. I also got invited up by an old friend, Benjy, to his birthday in Oxford. I went up in the early afternoon, had an awesome time hanging out with my friends Josh and Matthew as we went fishing next to St. Hilda's Colelge. Then, I got into black tie and went to a private dinner hosted just outside of Oxford to celerbate Benjy. In the morning we got up, went for a walk, and said our goodbyes after some coffee at the Missing Bean.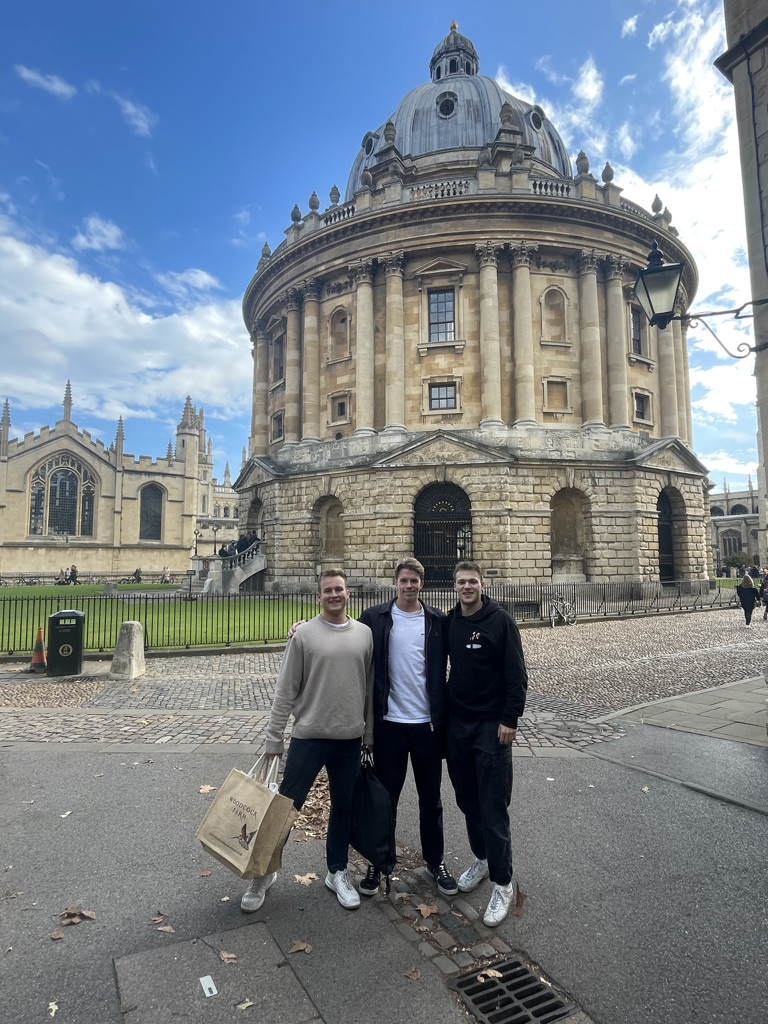 A morning in Oxford with Felix, Hamish and Ed (taking photo).
For Halloween, we celebrated by inviting a bunch of friends over to our flat! I did the usual and dressed as an old man. After spending €40 on this realistic mask in Berlin, I couldn't let it go to waste.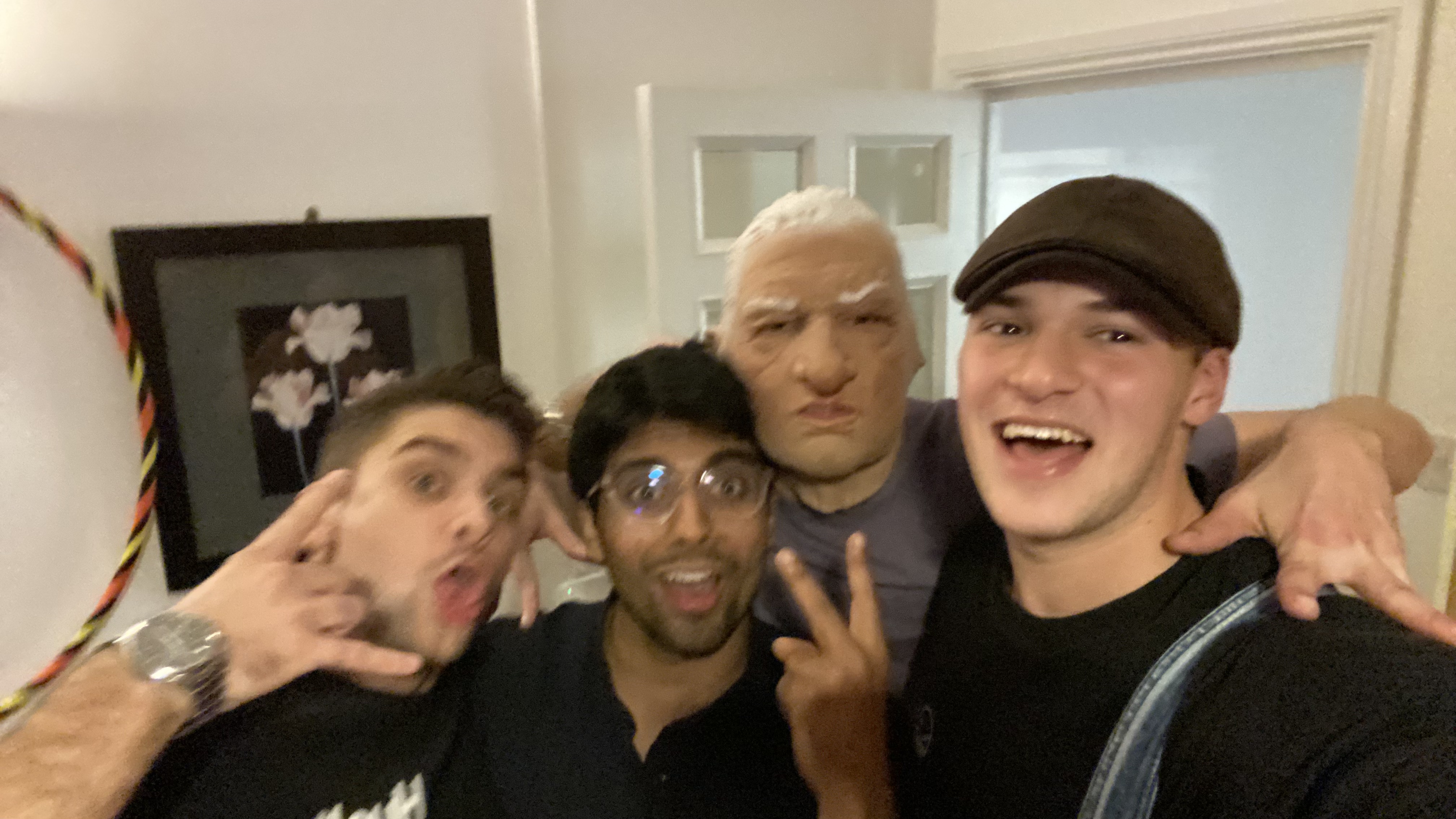 Ok, for this one Petter took my mask haha. What a phenomenal time.
November
November arrived like a rocketship. At this point, halfway through the semester, we were fully immersed. Outside of the strong memories shared here, my time was spent either working or, more importantly, spending quality time with the people I love. So many funny incidents would happen in that apartment that I can't even begin to share them. It was a truly special time.
Every weekend we tried to do something really fun. We went to a ballpit bar and threw plastic balls at each other for a few hours, getting a real sweat in. We had a large dinner with Natalia who was visiting from Berlin at a Polish restaurant for Kuba's birthday. We visited Borough market and I bought some really nice truffle olive oil. Although, on the way back it slipped out of my jacket pocket on the street and shattered, exhuding truffle fumes into the air for the thousands of people who walk past St. Paul's Cathedral daily (RIP).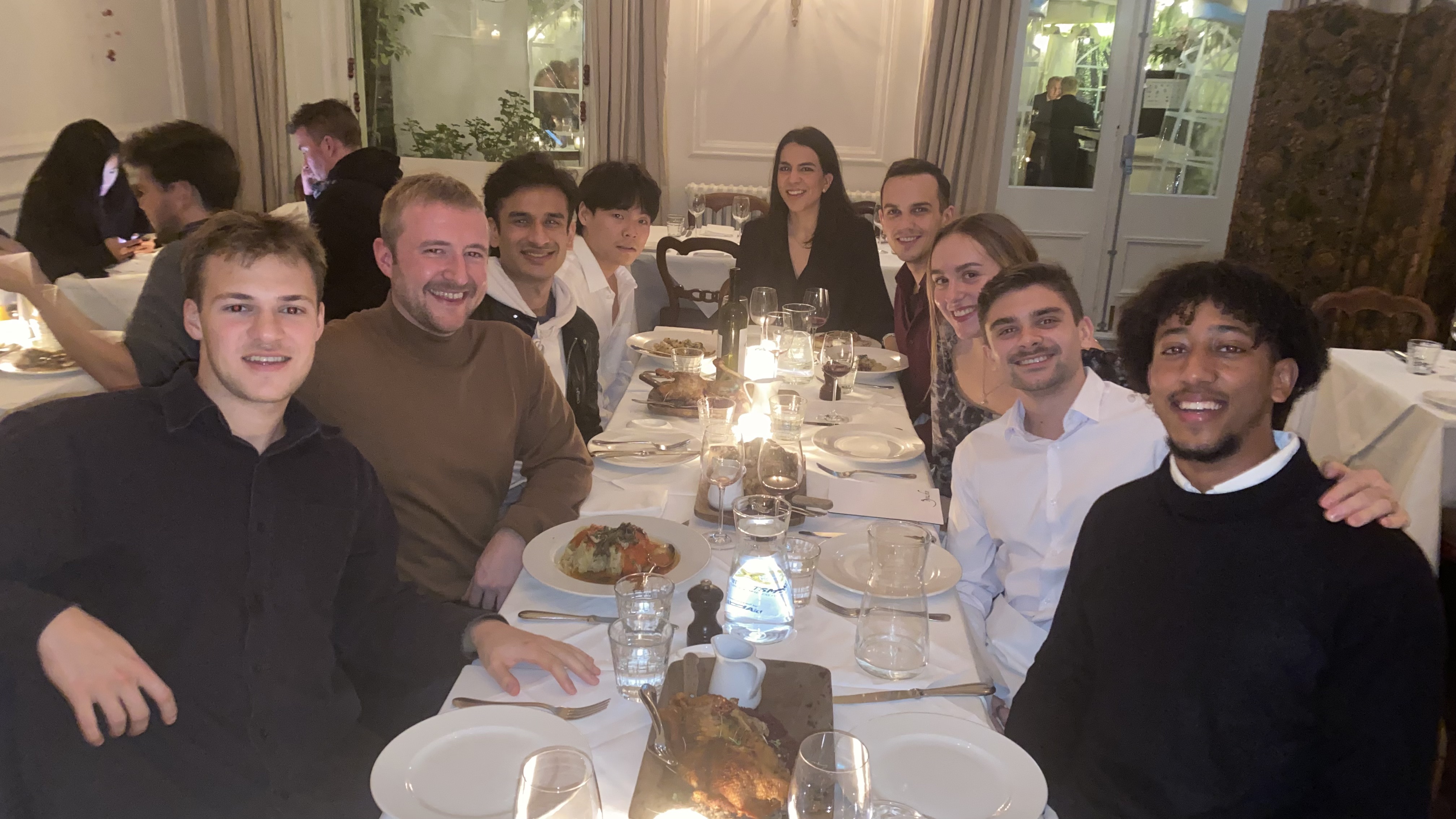 Polish dinner! I ate some pierogi, which was really tasty.
I also took a quick weekend trip with my friend Jonah up to Scotland. I was invited to Welly Ball, a party thrown by St. Andrew's students where everyone is in black tie and wellington boots. The party is thrown in a giant barn on the Scottish coastline, which is absolutely crazy. We took the train up, reunited with old friends including Lachie who joined us from Ediburgh, explored the small town (St. Andrew's only has 3 main streets!) and then went to the party that night. What a time it was.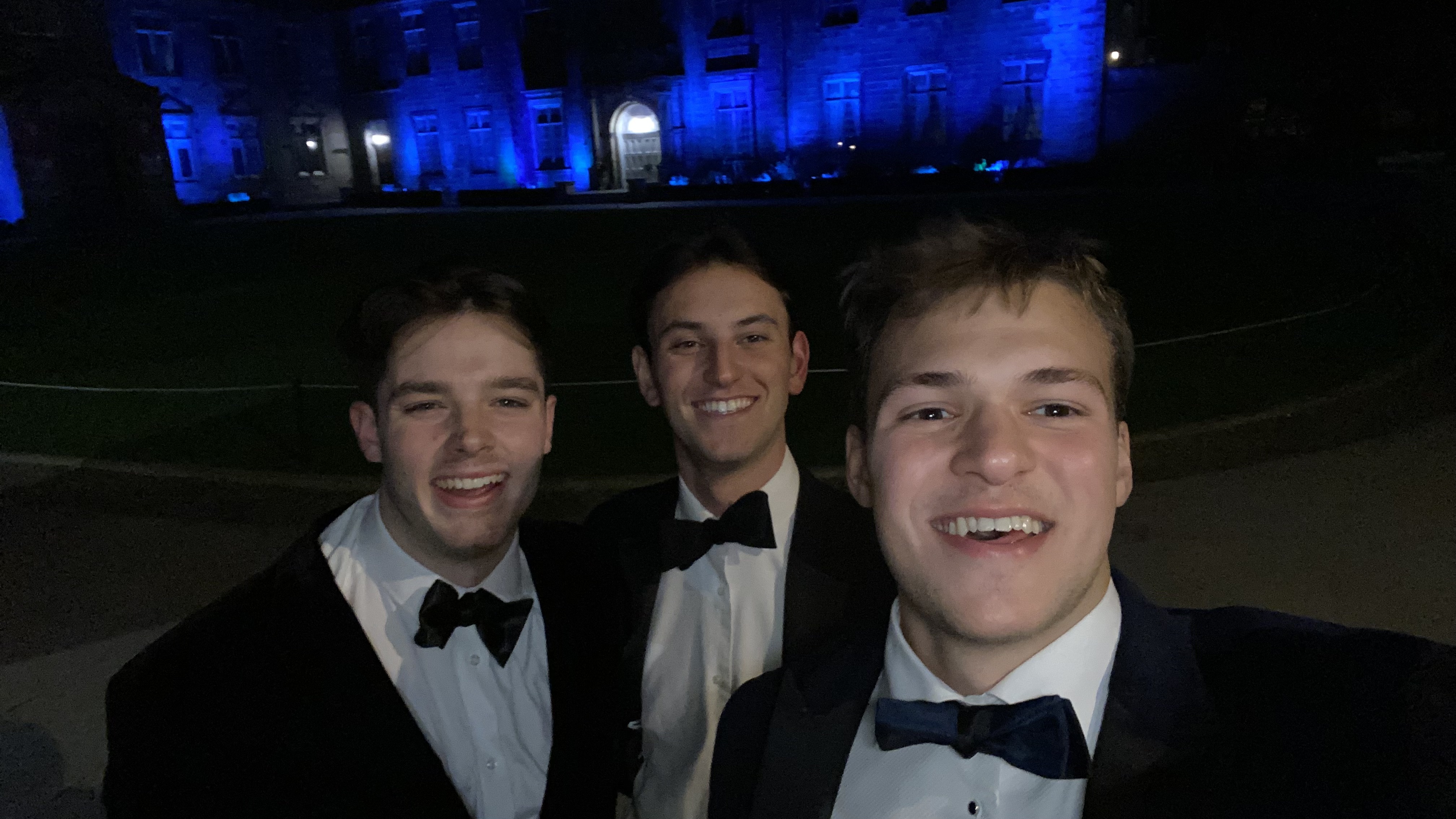 Lachie, Jonah and me outside a castle in St. Andrew's, Scotland. I live an insane life.
The next weekend, my Mum was managing a cookie dough stand at Taste London, a huge food show in London that happens twice a year. If I haven't told you about Doughlicious, then you should definitely check it out here. Amenti and I went to check it out to support her. All of the food and especially the cookies & our new product Dough-chi was delicious.
Later in the month, Minerva hosted an event called Friendsgiving, where we celebrate being a community together. It was super surreal seeing all of the members of my university class in one place again. COVID had lasted too long. We ate fried chicken, listened to music, and caught up. The next day, Amenti, Manny and I went up to Eton. It was a special day called St. Andrew's day. I took them to an early morning chapel with Felix, I played my alumni game of water polo, and then we watched the wall game. It was crazy showing them Eton and especially taking them to chapel. I had sat through so many services with my Eton friends, and now finally I could put my Minerva friends through the same experience.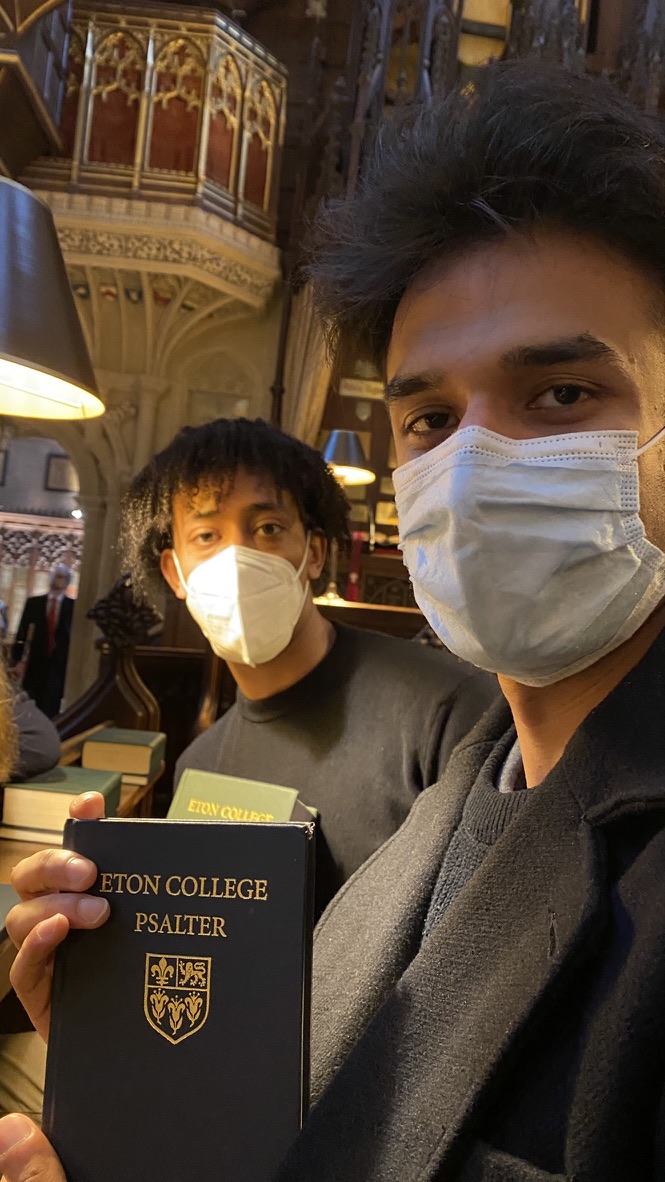 Amenti and Manny with the Eton College Psalter.
Finally, during the last week of the month, Chris and I adventured around London for a location-based Minerva assignment. We were tasked at exploring the city and filming a vlog where we talked about utilitarianism. It was really funny filming, and eventually we ended up at Jeremy Bentham's head (hosted on UCL's campus, which is pretty crazy). That last weekend, Amenti and I went to one of our first Web 3.0 parties hosted by Friends With Benefits (a DAO) at the Fnatic gaming HQ in London. It was an epic time meeting people working on NFTs and Crypto and finally talking about all of these concepts I had read so much about via Twitter in person.
December
The final month. While I expected more out of December, this journey was cut short due to COVID yet again. It still played out to be a great time, however!
The month started with a lovely dinner at my friend, Kiki's, house. She mingled some of my friends, some of hers from Oxford, and some other London people together. I love it when people from different walks of life but similar interests meet. I also went to Winter Wonderland in Hyde Park with her and some other people, we rode some rides, ate churros, and danced in the cold as if we were on the slopes of Courchevel.
I had some more interviews to attend to, which ended up being an exhausting week. Yet, it was all complemented by a Jonas Blue concert at the Ministry of Sound I went to with friends. We had a crazy night out, and got back really late in the morning. The music was incredible. The day after, however, was wisdom tooth day.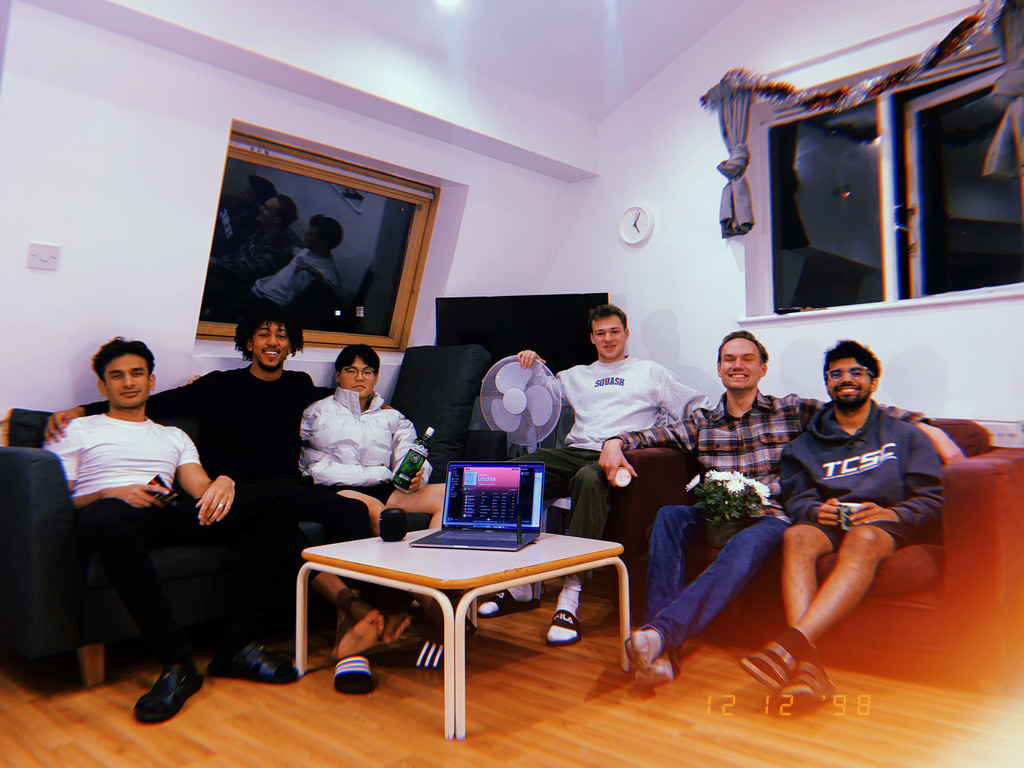 We knew by the time I finished my wisdom tooth recovery, Junyoung would be on a plane to South Korea. So, we all gathered for a photo beforehand. Meet Flat 14.
I travelled home, spent the night, and the next morning my Dad drove me to the hospital at 6am. I sat in a funny gown for a few hours after signing some documents and then it was time. I had never been under general anaesthetic before, but man was it weird. Once the drug was administered, I continued to speak to the anaesthesiologist. At a moments notice, the sleep spell hit. I remember my eyes falling, body relaxing, and then boom. I was out cold.
The awakening was even stranger. It felt as if no time had passed. My eyes peeled open and I felt the sting of the IV drip in my hand. Something was in my mouth. What was? Oh wait, a cotton swab. Hold on, where was I? Oh. Wisdom tooth. My tongue shifted slightly and it hurt. My mouth was dry and numb. I slowly continued to awaken and realised hours had passed. There I sat, in bed, with two less teeth in my mouth and a swollen jaw to complement it.
The recovery took a few days of drinking soup and eating ice cream with my head tilted to one side to prevent any food touching the swollen holes on the left side of my mouth. In the meantime, some crazy stuff happened back at Flat 14. Everyone had gotten COVID.
The fun we had at Jonas Blue needed a contrasting bout of bad luck. And this was it. I initially planned to go back to spend the last few days of the semester and finish my finals with my friends. However, as soon as I heard that everyone in the apartment had COVID, those plans were out the window. The semester ended abruptly, with no time to even say goodbye to my friends. I flew to Miami the day before my birthday and spent the days up until Christmas there with extended family.
Flat 14 was under strict lockdown! My friends didn't leave the apartment for days (thank goodness for the balcony) and ordered groceries nonstop, particualrly for Christmas dinner. The only fortunate thing was that they were still there when I got back from Miami!
We had one final pint at Wetherspoons before they all left to the States. It was a sad goodbye knowing the semester had ended, but also grateful after all the amazing times we had together and the endless experiences to come in the final semester of Minerva and beyond.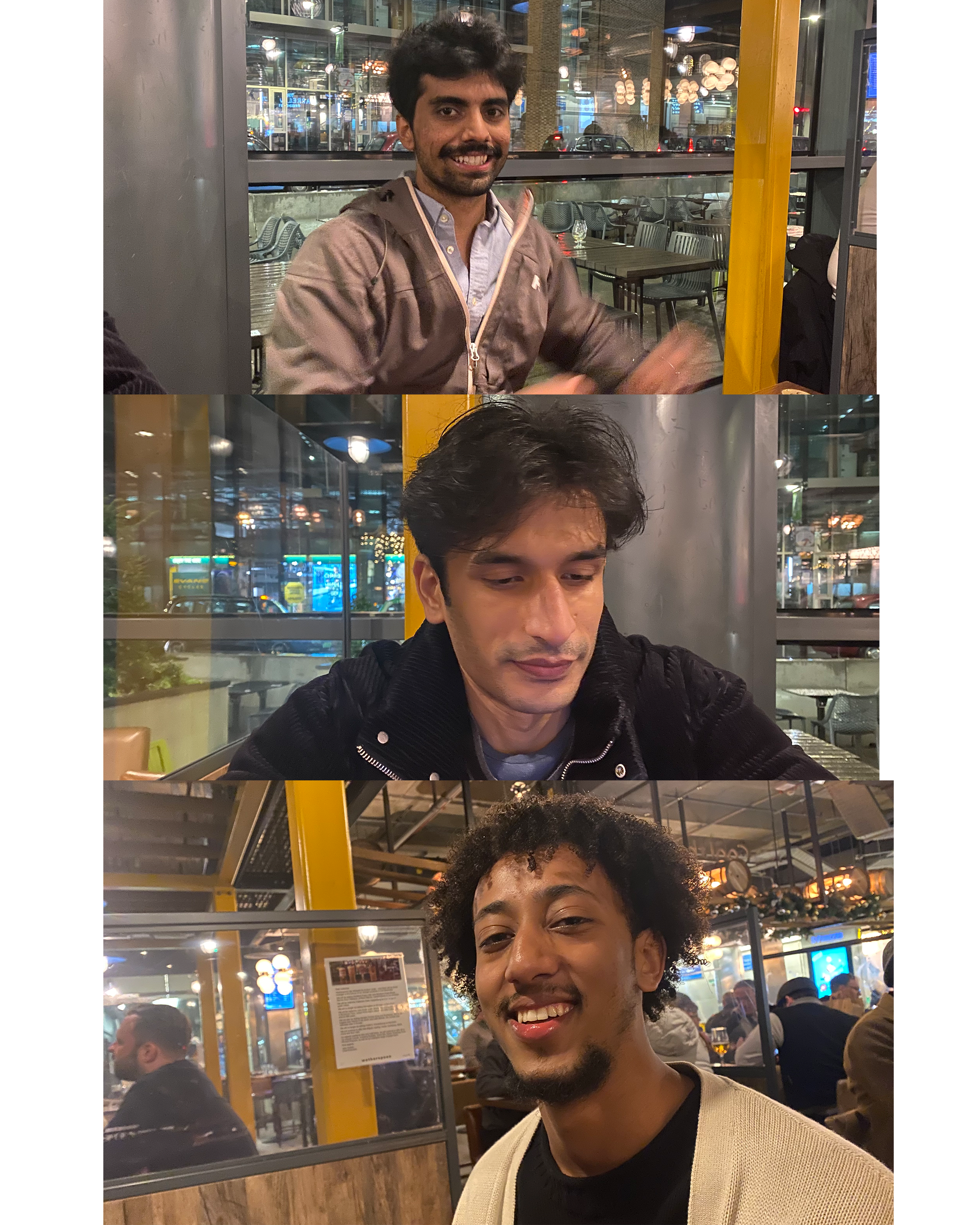 The remaining lads after recovering from COVID. Good to know they're still up for a pint!
As ever, thanks for reading. Let me know if you enjoyed any particular parts of my writing. I simply do this as a way of documenting my life. However, it means a lot to me when other people get value out of my stories as well :)
---
As I write this, looking back there are just so many fond memories I have of London over the summer and during this semester. It's always hard realising just how quick all of these experiences pass. I continue to be aware of the priviledge I benefit from. I try not to take anything for granted. As my brother told me the other day, "don't blink".
I near the end of this four year journey. It's been a crazy one, and I know I'll miss it even more when the curtains really come to a close. Especially now that I know my friends and I won't be in the same place after graduation. Yet, it gives me comfort knowing they are on to doing super impressive things and I know we will all put in the effort to connect outside of university. I'm trying not to think of the working world as "work". Rather, I just have more freedom over how I spend my time. It's not work, it's just pursuing my interests and learning more, just like my time at Minerva, Eton, and St. Paul's.
I also come back to the way I felt leaving Eton. Time is short, so you make the most of it. But when time passes, there's no point in falling into a backwards state of mind. Remorse shouldn't last. Rather, I should think about all of the experiences I had and the friends I made, and think about all of the incredible things to come with these people and more in the next stage. I'm at a position in my life where I know I can always have people I love around me. Even if some of them fall off the map at times, there's always another one that appreciates me for who I am and what we can accomplish together.
I'm pumped for the final chapter.
---
This is a habit for every Minerva semester. Stay tuned for the final chapter. My last semester.