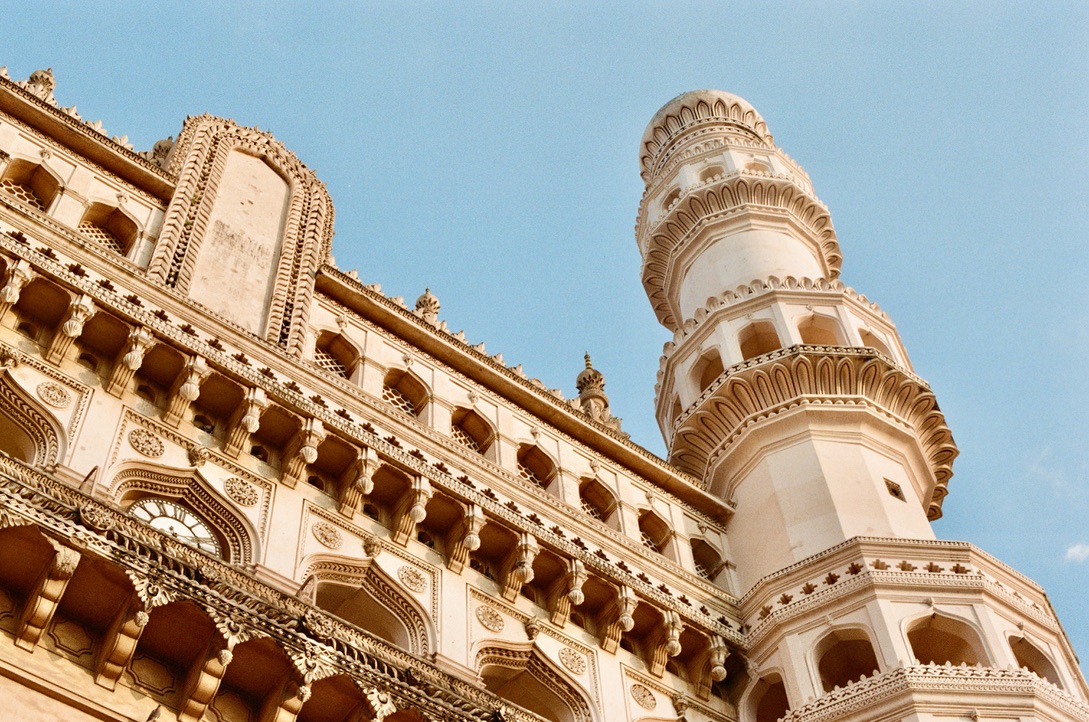 Minerva Chapter 3 | Hyderabad
-

8 mins
A quick recap of what my semester in Hyderabad, India, looked like at Minerva outside of academics. For me to remember and for you to enjoy.
India was a lot and yet felt like a little. Much of my time was spent inside, working on projects with friends and taking pretty hard classes. While Hyderabad is full of beautiful people and novel experiences, there isn't that much to see within the mass urban sprawl of the city itself. As a result, most days blurred into one, especially once Covid-19 started erupting later in the semester. Regardless, I will try to remember what happened in this crazy, surreal, experiential blip of my life.
January
I arrived in Hyderabad at 5:00am. I vividly remember popping out of the airport into the hot, smoggy climate of India that I was familiar with from my last trip to this distinct country. I rolled my bag down the concrete pavement exhausted from the flight and surrounded by taxi drivers competing for me to be their next customer. Getting to the taxi stand, I pay the 500 rupees ($6.75) for the legitimate taxi service, found my driver, and rode for 45 minutes down the dark highway into Hyderabad as the sun began to peak over the horizon. This is it, I told myself. Another destination. The second half of my sophomore year. The taxi's in general don't have seatbelts, so I held on to the overhead handle as we jumped over potholes and sped towards High Tech City, on the north western side of Hyderabad and where the Minerva residence was located.
Stumbling into my apartment, I found my room - I was sharing it with two of my Mexican friends who had already arrived but were asleep. I crashed into bed, slept for 3 hours, and then my journey began.
The first month passed by quick. As a class of 150, we gathered at a venue in the city for our introduction to India, learned about the culture, professional tendencies, and how we should navigate the city itself.
My first stroll around my neighbourhood I remember nearly getting run over by 3 motorbikes and an "auto" (the Indian equivalent of a tuk-tuk), seeing a herd of goats in the street, smelling sweet curry from a local food stand, and being sad about the trash that polluted the streets.
In the first few weeks we visited Charminar, one of the main tourist sites in Hyderabad (need to do the touristy stuff early and then you can really dive deep into the actual city), went to a farm in the countryside and learned Indian dances, bargained with vendors for a scarf, met with professionals connected to the Minerva network, and ate a lot of biryani.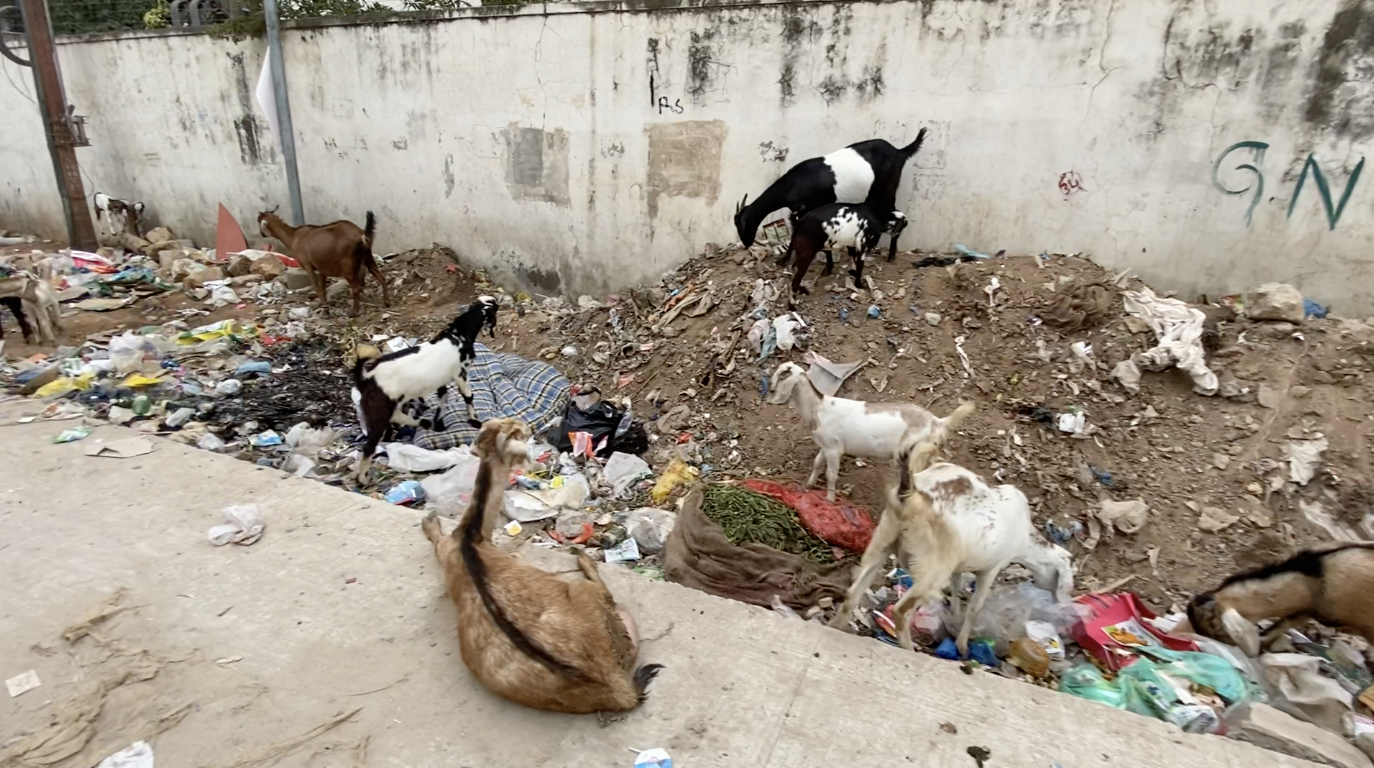 The goats and rubbish on the street on our first day in Hyderabad.
February
My mom and sister came to visit from end of January to early February! We explored the city together, I was quite bogged down with some of my first assignments, but I managed to get them out into the thick of the city. My mom definitely was not used to the chaotic traffic and interesting smells that exude from the streets of the city.
I remember the first notice of the coronavirus actually - a news article of am emerging virus in Wuhan. Just like everyone else, I didn't really think much of it at the time. It had been in China for a while it seemed, and there wasn't much information on the spread of it. This all changed quickly.
The rest of the month went by quick. I had a lot of fun playing paintball with friends for someone's birthday. I started working on start-up projects with my friends Alex and Ba Thien. We would wake up every day at 9am and meet for 2 hours before our classes started, working on a variety of projects, setting up a structure for reaching out to founders in Hyderabad, and taking Y Combinator summer school. The result of this was many meetings with a bunch of Indian entrepreneurs in different spaces where we got to learn a lot from their experiences.
In retrospect, I don't know how impactful this was. We spent a lot of time travelling in autos and having shallow conversations. But at least we learned our lesson. We made up questions that would help us to get to valuable information fast, became far more blunt, and found ourselved balancing our time better between coding and meaningful networking. The funniest part was packing 3 of us big guys into autos and practically having to sit ontop of each other as we bounced around corners and weaved through the Hyderabadi traffic.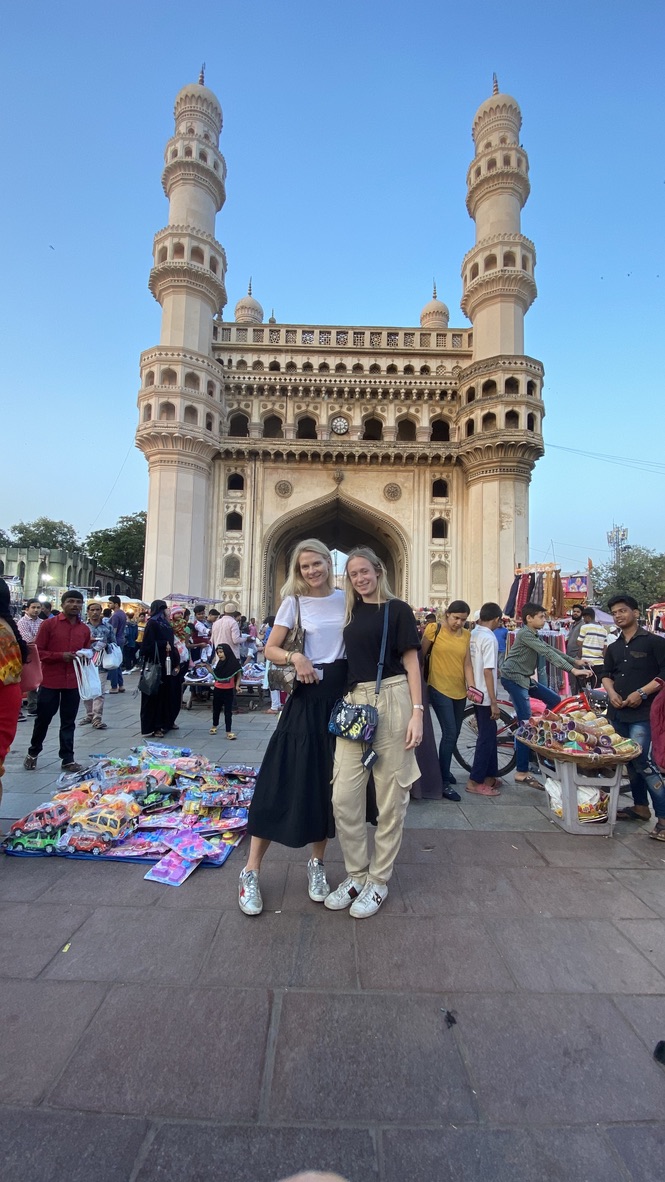 Mom and Grace in front of Charminar!
March
Coronavirus started kicking off around the world. Every day the number of cases would increase exponentially and people started to get very concerned. No news of the virus reaching India had hit, but we knew it was on its way.
I got to see Diplo at a nightclub in Hyderabad which was really cool and my friends and I took a quick spring break trip to Goa. I remember people having to wear masks on planes - the first of many. Goa was fun. We spent a lot of time on the beach, exploring the town, and enjoying the sun. A friend and her friends were there as well from Paris coincidentally, so we ended up hanging out with them as well.
Upon returning, the situation became more bleak. My time in Hyderabad I felt was coming to a close. We stopped being able to go outside as much, worked more on our startup ideas, and eventually decided to apply to YC out of the summer school with our idea Memoir.
Besides this, we played Dungeons and Dragons some, celebrated my friend Pedro's birthday, drank a bunch of milkshakes ordered via Swiggy, the Uber Eats of India, and ate even more spicy biryani, butter chicken, and other various curries. Coronavirus meanwhile became an even bigger concern.
Towards the end of the month Minerva emailed us about leaving. They strongly recommended it, given the global situation. Everyone booked their flights the next day for that week. It was time to go home. We spent the last day visiting Golconda fort, ordering milkshakes, listening to our newfound Indian music, and enjoying time as roommates and Minerva classmates. That was the end of our Hyderabad trip, but not the end of the semester quite yet!
Mom and Grace in front of Charminar!
April: Coronavirus
Having applied to Y Combinator, we heard back from them and had been accepted for the final interviews! We were ecstatic. Having moved back home to locked-down London, I had no distractions. My days blurred into YC interview preparation, classes, and some family time.
All of my classes were pushed into the morning or even earlier. My physics class was from 4:30am to 6:00am for the whole of that month. My sleep schedule was destroyed, but I didn't care. I ended up with straight A's that semester and YC interviews just around the corner.
We did the YC interview. We felt prepared going into it, but not completely confident of our product and its capacity to take over the market. I think this reflected in the interview. While we spoke well and got along with the interviewers, it was a tough sell. Note-taking apps are a tough space! Our problem was that we didn't have a greater mission. It was just a web app. We showed YC that we could execute and that we were a strong team. However, we needed more users, better market research, and needed to pursue founder fame less and building a product people love more.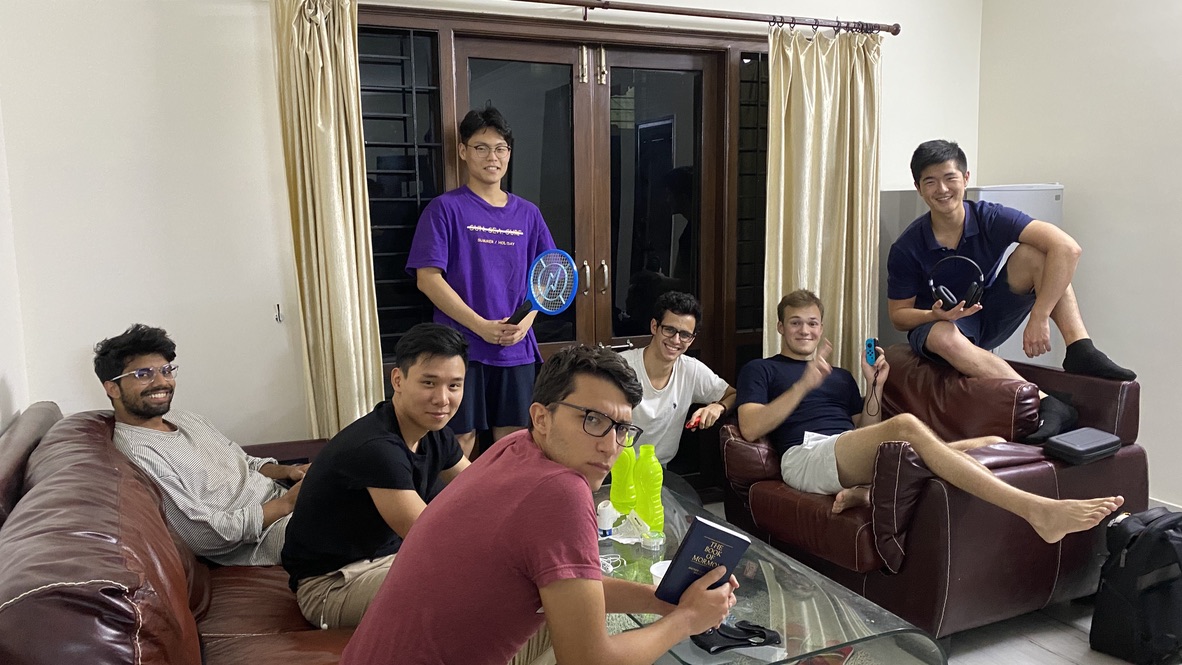 Me and all my roommates. What an experience.
---
Although I didn't spend my whole semester in Hyderabad, it definitely was a time I won't forget. Despite the mosquitos, pollution, and water bucket I had to stand over every time I showered as a drainage system, I really learned a lot from my experience there.
Work hard and smart. It's not enough just to throw time at anything. You need to take action, but take it in the right ways and consider the opportunity cost. The best thing to do is to take action, learn from mistakes, and then modify your approach accordingly.
Smile. The people I met in Hyderabad were some of the nicest, most friendly people I have ever met. One of the most evident reasons for why I thought this was that they always smiled. I need to learn to do that more as well. A smile goes a long way.
Stop thinking about the small things. Even though I was covered in mosquito bites, sweat litres every day, and had to wear a mask even pre-covid just for pollution purposes, none of it should have mattered. I was with my friends, making new memories, working on things I loved, and was completely healthy. Don't take any of this for granted.
---
This is a habit for every Minerva semester. Stay tuned for 4 more chapters.