Minerva Chapter 7 | Final Semester
-

4 mins
A quick recap of what my final semester at Minerva looked like outside of academics. For me to remember and for you to enjoy.
I came out of this semester with plans for the future, respect for the past, and even more of an appreciation of the present. While I'm not exactly sure what I'm going to do with my life, this semester led me to a large amount of peace in a huge stage of uncertainty.
The puzzle that is my life is far from being complete, thank goodness. However, the small portion that was Minerva has finally come together in what was a whirlwind of a time that I will never forget.
---
January
After the COVID complications of the past semesters, I was used to my Minerva reality deviating from expectations. This time around was going to be similar to last spring: the plan was to make my way across the US to the west coast, eventually ending up in San Francisco where I would graduate!
I started my first week of classes in London. This semester I was taking an advanced deep learning class, my capstone course, and a finance class I had to take as an elective. My main priorities going into this semester were to write my capstone (essentially a dissertation), figure out a job after graduation, learn a lot about machine learning and the blockchain, and spend quality time with friends before the journey comes to an end.
The week passed quick, I said my goodbyes to family and friends in London, and then set off on my next adventure. The first stop was, as you might guess, round 2 in New York City.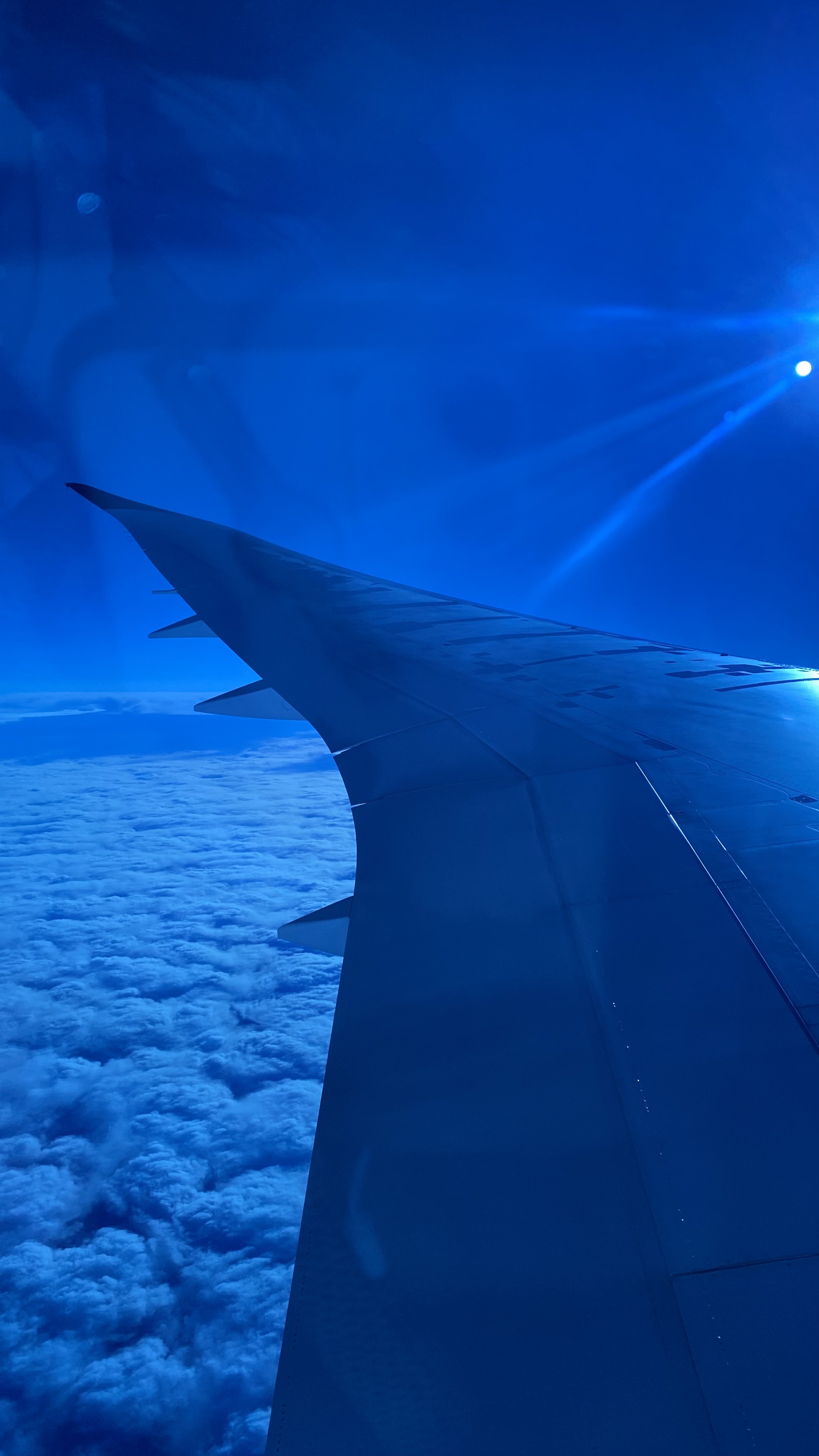 Jetsetting across The Pond to NYC.
I was staying with my sister for the first week and then I had plans to head up to the Upper West Side to see my Columbia friends. The first night I arrived I headed straight to my cousins to celebrate his new job offer. It was great to be back!
New York had a different vibe in winter, but I still loved it. Bundling up in big coats, appreciating the snow, and seeing the city lights for more hours of the day was pretty cool. Those first few days my sister took me out to see some of her friends at various exclusive bars, I ate some delicious food, and reconnected with some old friends.
Unexpectedly, however, my sister's roommate decided that I had over stayed my welcome and didn't want me in their pull out couch in the living room shortly after my arrival. I had to swiftly find an alternate place to live. Not to worry though, the first person I messaged was Eli, a long-time friend I had met at a Barcelona tennis camp at 13-years old.
Eli is a legend. He is one of the most hospitable, honest people I know and I am super fortunate to have stayed in-touch with him over the years. He's been to my house in London, whenever I've been in New York I've reached out to him, and we weirdly have had some overlapping holidays together in Greece and Miami. Eli invited me into his family home at a moments notice, which is where I then stayed for the remainder of the week.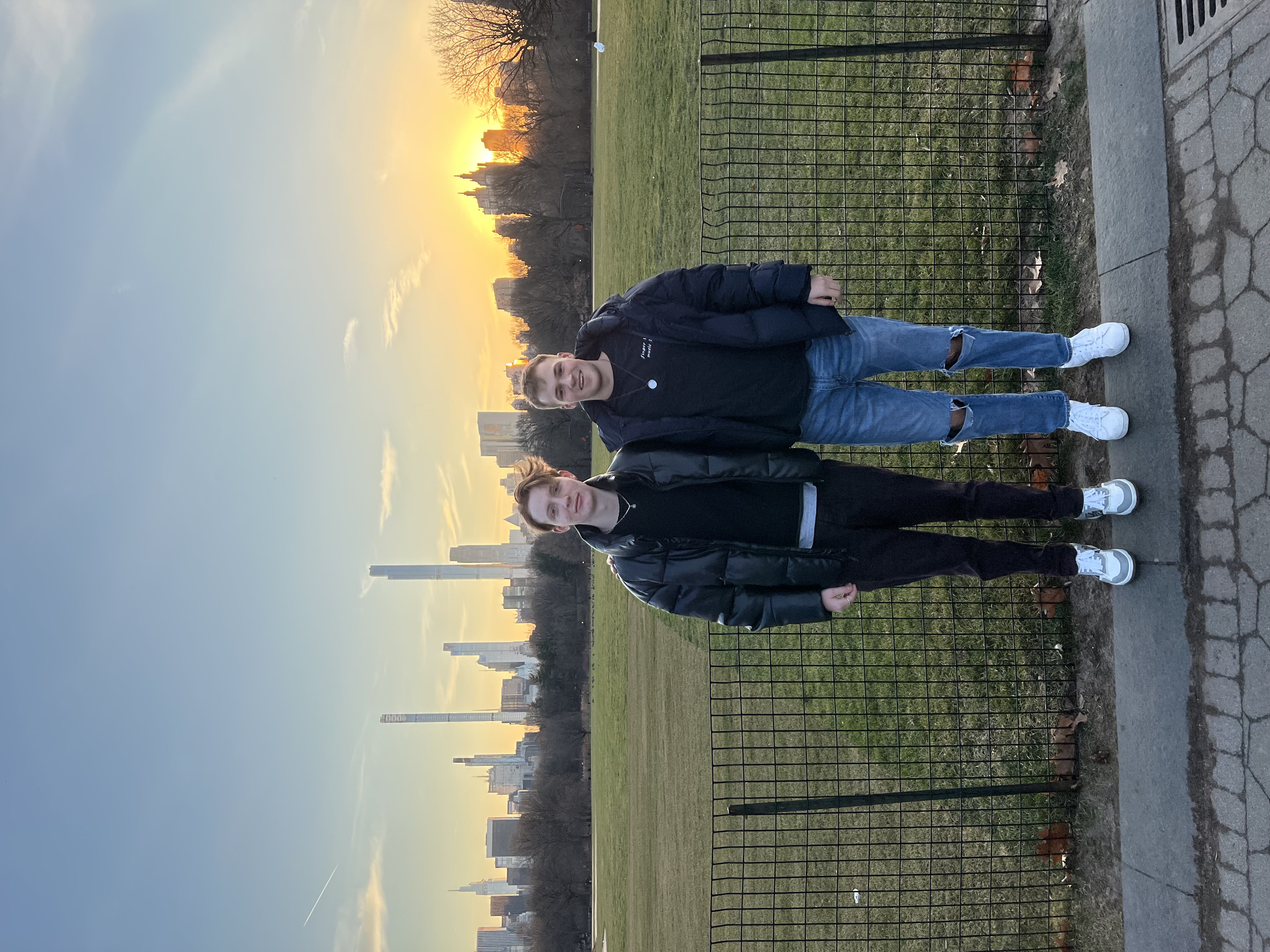 Eli and me in central park on a cold winter's eve.
to be continued…
February
March
April
May
Onwards
---
I wrote a poem a while back that I think encapsulates my feelings as I move into the next chapter of my life:
When I think of joy
I think of my body free
At the edge of a valley
With journeys below
Loved ones around
We stand together as one
Outstretch our arms
Tilt our heads to the sky
We shout as far
As the eye can see
Cheerful, careless, and free
With journeys below
And an adventure in front of me
Thank you to friends, family, colleagues, and the sheer level of fortune I've had in my life thus far. I hope I can leverage my opportunity to make the world a better place.
---
I hope to continue writing about my life as it progresses. I know there will be less distinct chapters, but I will do my best to reflect deeply, record thoroughly, and share my thoughts with you. Thank you for reading.