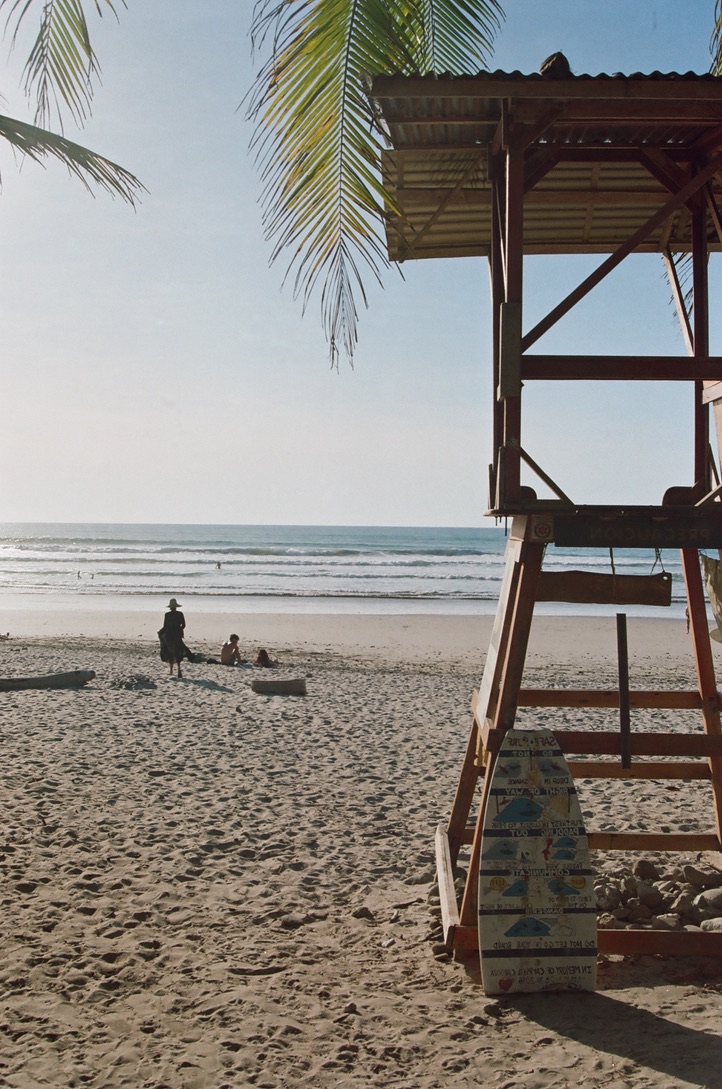 Minerva Chapter 5 | America Travel
-

25 mins
A quick recap of what my semester travelling through America looked like at Minerva outside of academics. For me to remember and for you to enjoy.
This semester was absolutely insane. If was told in the middle of cold, dark December, sitting at my kitchen table planning this trip, that it would play out the way it did… I wouldn't have believed you.
My idea was to screw the Minerva residence program yet again. I was simply tired of the blanket policies; ever since the coronavirus, the Minerva administration seemed to be walking on tip-toes in whatever city they were in. There was always another restriction to follow, event that was cancelled, and tedious task to undertake. After getting into trouble with one of the residence councellors in the Berlin building for simply using the Minerva WiFi, I was done with it. It would be cheaper to do something different anyways.
So, a plan pieced together in my head. Instead of living in San Franisco with the rest of the Minerva students, I would travel across America, staying with friends and family, skiing, surfing, exploring, and living out of my single suitcase. Here's the timeline of my adventures.
January
On January 1st I messaged my buddy, Gordon, who goes to Stanford. I knew he would still be on Christmas break around the time I would want to start travelling (due to the quarter system) and that he'd be up for an adventure. On the spot he invited me to stay with him and ski for a week in Jackson Hole, Wyoming. My first stop.
I flew out a week later. A short layover in Chicago followed by some beautiful snowy mountains out of the airplane window led me to the winter wonderland of Jackson Hole. I had heard some good things about the skiing there, but oh man was it good.
The week started with Gordon unfortunately spilling some water on my laptop, breaking it the day before my classes started. Academics weren't off to a good start but the fun was. I used his mum's old macbook and managed through the first week. In our free time we had so much fun. We went cross country skiing, went to the gym, hiked up a snowy mountain, shot film photographs, flew my drone, ate amazing food, cooked, and finally, skiied.
The first day on the slopes was about midway through the week. It was a stormy blizzard but Gordon said this was the best type of skiing. I begged to differ but it was honestly so much fun and tee'd off the snow for the rest of our ski days. It was great because I had posted something on my social media about me being in Wyoming, and before I knew it I had three messages from separate groups of friends that they were in the area at the same time. My friend Brooke was working on the mountain for her gap year from Princeton and got me free skis and boots. My friend Daniyal was travelling with his Harvard friends through the area on a ski trip and invited Gordon and me over for dinner. My family friends and old neighbours were on holiday and wanted to meet up on the ski slopes for lunch.
We all ended up skiing one of the days together and it was incredible. I hadn't been on the slopes in 5 years, but somehow it felt like just yesterday.
During this time I made plans with my brother to meet up and ski more in Salt Lake City after the trip. I also then mapped out a route through San Francisco where my brother and I would stay at a friend's place for 3 weeks, see my Minerva friends, enjoy the California sun, and then head down to Costa Rica with my brother and 2 friends from the UK who go to Columbia in New York. Costa Rica! This was one of the only countries that was primarily free of COVID restrictions and we had heard great things about the surfing and beaches. I couldn't wait.
Gordon drove me early in the morning down to Salt Lake City at the end of the week and then onwards to Newport Beach. He really likes long-haul drives. I was dropped off at the corner of a parking lot on the east side of SLC next to a computer repair store. My laptop was going to be shipped to Apple, repaired, and then sent back to me. How on Earth was I going to finesse that with so much travel? It was a problem I'd have to sort out with Apple. In the meantime, my brother was bringing my Mum's old 2012 Macbook Pro that was littered with viruses from all of the pirated TV shows and movies we used to watch without an adblocker. Whoops.
My brother arrived that evening and we met up with my Minerva friend Alfonso and his wife Elise. We caught up and they showed us around the Mormon temple which was really cool to see and learn about. Then we got picked up by our friend Max, who was also in SLC working for Bain remotely, and he drove us to our place.
The week started with classes on the hardly working laptop and a scenic hike through the mountains surrounding SLC with Max and his roommate. At the peak viewpoint of this hike I was flying my drone through the valley, picking up some super beautiful shots. Out of nowhere I got a low battery sign - perhaps the cold affected it moreso than usual. I totally underestimated how far away it was. Half way through its return it hit 0%. I thought it was screwed. The drone did an emergency landing, dropping vertically in-place still 500m away horizontally and some hundred metres down into the valley of snow below us. That was when the hike truly began. We used the GPS to track the drone down. The sun was setting so we had to be quick. We followed the trail back to where it was closest to the emergency landing spot and then blazed our own trail through waist-deep snow, totally unprepared for such conditions. We hiked over a hill, down through a gorge, and after 45 minutes of gruelling off-roading, we rounded a corner and found it! What a save.
The next few days I explored SLC, went down to the Bringham-Young University campus to eat all-you-can-eat Brazilian barbecue with Alfonso, Elise, Alexander and Ba Thien. Yes, they were in SLC as well living in a hacker house just north of the city! It was a crazy experience reuniting with 3 out of the 6 other people I lived with just last year in Hyderabad here in Utah. Of all places! We made plans to ski that Friday.
I skiied the next day with my brother. It was epic. We bought passes for Alta and he was back on his skis in no time, just like me in Jackson Hole. We started with some blues but were quickly on the off-piste section of the mountain. At one point we had a pretty scary encounter with an unseen cliff and a 300ft drop into a parking lot, but I'll save that story for another time.
The next time was with all of my Minerva mates. Ba Thien and Alfonso had never skiied before, but Alexander was pretty good. I tried teaching the two newbies, but it was hard and I became impatient because I knew this was my last ski day and the passes weren't cheap. I taught them as much as I could and left them to practice together! They definitely struggled but it was a really good effort. Alfonso did call me saying he was stuck in the snow for 30 minutes and Ba Thien was the last person on the mountain after trying to conquer a blue and falling 40+ times, such that the ski patrol had to help him, but other than that all good. :)
We said goodbye to everyone and Trenton and I packed our bags for the next place: San Francisco. This was a three week stop and we were so fortunate to be staying rent-free at our family friend's place near the Giants stadium. This was towards the end of the month and to start my SF stay I had a walk through the beloved Tenderloin before getting dinner with Pedro and seeing all of my other best mates at Minerva.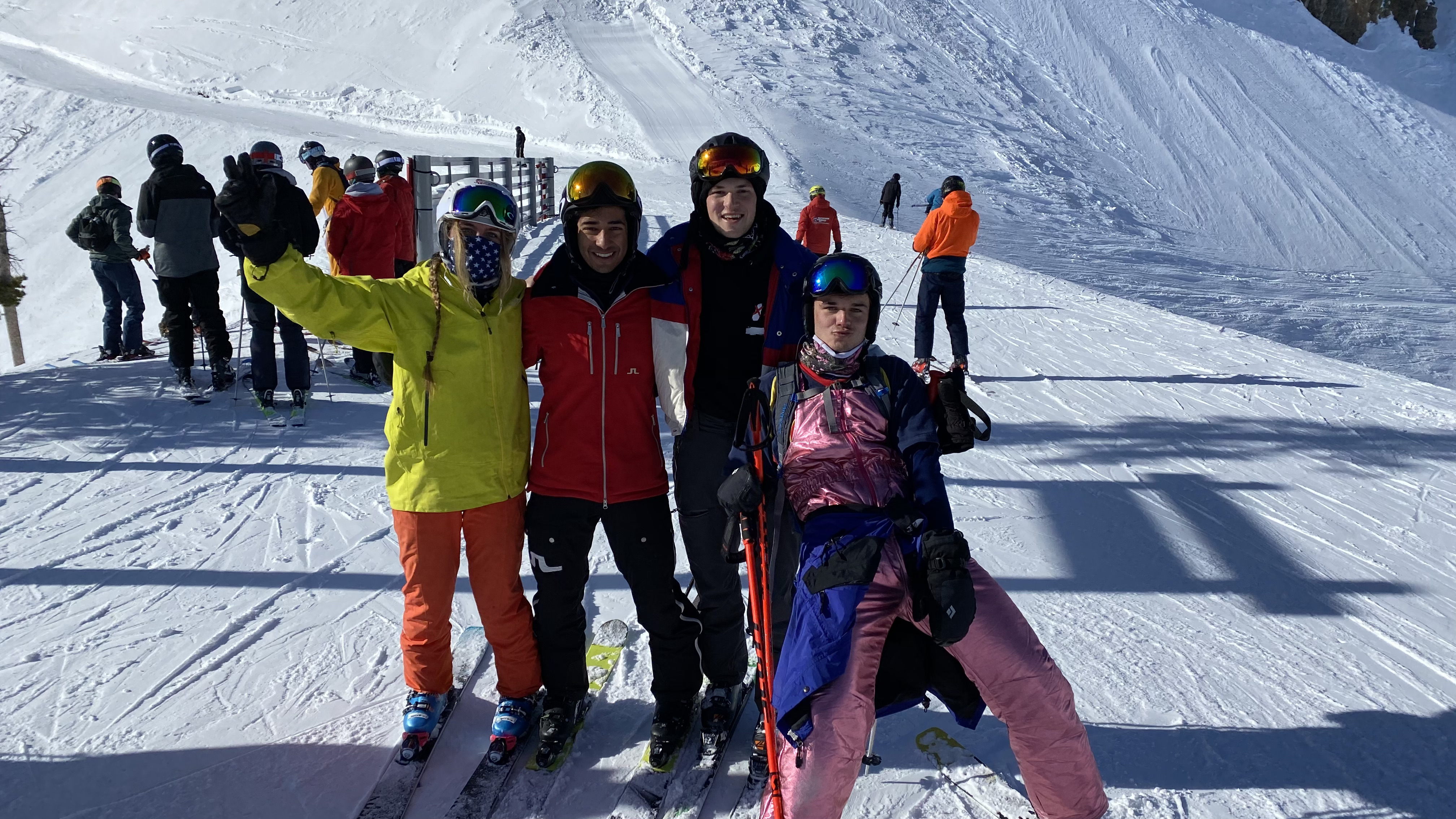 Brits in Jackson Hole! Brooke, Daniyal, Me and Gordon.
February
I knew I didn't have much time in San Francisco, so I really wanted to make the most of it with my friends. Every weekend I was there we did something fun. The first weekend I caught up with everyone and we had a big gathering near the residence hall late at night. The next weekend I scheduled a huge bonfire near Land's End which was loads of fun. We cooked sausages and s'mores. It was nice to have Trenton meet all of my Minerva friends. The next weekend I planned a party on top of Bernal Heights. Scheduling social events outside was the norm by now, given the COVID restrictions Minerva had placed on guests like me entering the residence hall.
During the weeks, I cooked a lot, explored the city, hung out with Trenton, took film photos, flew my drone, and had some work to catch up on after so much fun skiing.
And just like that, my time in SF quickly flew by. Before I knew it, our last day had arrived. Our family friend came into town and we had a Korean Barbecue dinner after a hike by the Sutro Baths. In the morning we packed our bags and said our goodbyes. The next stop was Costa Rica.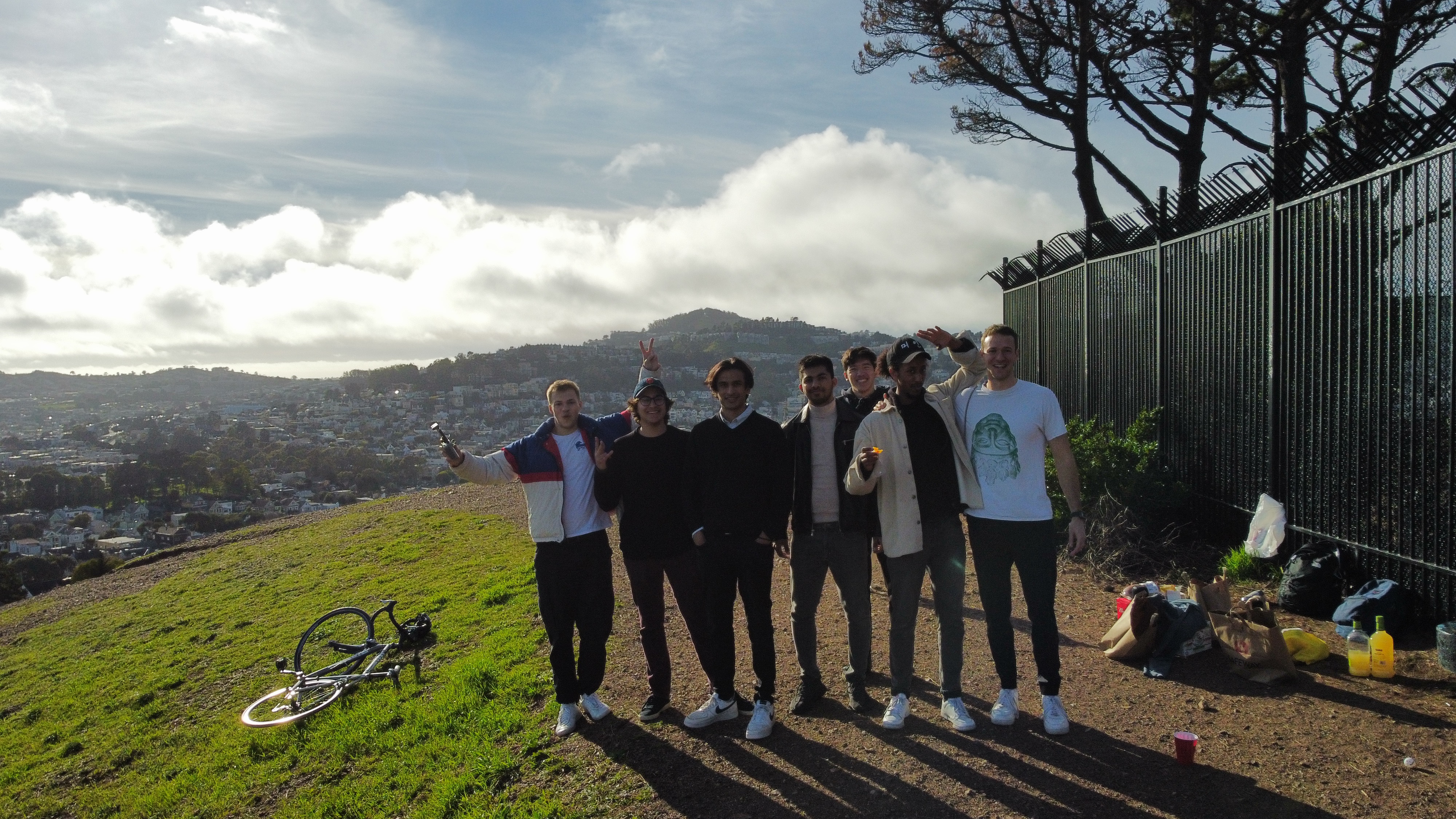 My friends, brother, and me on top of Bernal Heights.
Our journey to Santa Teresa, a small, digital nomad, surfer town on the west coast of Costa Rica, was not the easiest. We had a layover in Dallas and just as we arrived a blizzard hit. Loads of flights were cancelled and my brother and I truly thought we were stranded for the night, if not for a few days. Dallas rarely gets more than an inch or two of snow. At that point, it had 6. Somehow our flight was pretty much the only one that was still planned scheduled to depart. While it may have been delayed a few hours, it held in there. We boarded, crossed out fingers, and took off.
We arrived in San Jose at 2:00am and had a 20 minute cab drive to the 1-night AirBnB we had booked en route to Santa Teresa. My English friends Ayo and Nico had flown from New York earlier that evening and would have waited for us if not for the delay. They were already at the AirBnB, likely asleep. We exchanged some dollars for pesos and picked up a taxi. We drove down the dimly lit dirt roads of Costa Rica, unaware of the beauty around us, exhausted from our 18 hours of travel, but excited for what was to come. We arrived at the gated AirBnB community, had some trouble at the gate with the security guard thinking we had already arrived, but eventually made it through. We pounded the door of what we thought was our stay for the night. No answer. Pounded again. No answer. Was this the right house? Finally, one last knock. Just as my knuckles connected with the door it swung open and standing infront of us was a half-naked Ayomide. It was hilarious. Seeing our friends from London in a Costa Rican sketchy AirBnB sleeping in creaky bunk beds, waiting for us. What a life. I knew this was going to be an epic two weeks in this new country.
The next day we drove 2 hours to the ferry through the jungle. The sun was shining, Ayo was playing some jungle beats on the radio, and we were all so excited to just be there. We made it to the ferry, had a short trip across of the ocean to the western foot of Costa Rica, and then drove another hour to Santa Teresa. We had an AirBnB booked in a newly opened community at the center of town. It was a great deal because of COVID and was clean, comfortable, and beautiful. As a matter of fact, the whole town was.
Santa Teresa really was the Bali of Central America. Long haired surfers drove past us on ATVs as we explored the town. Beach bums walked past with sea-sprayed hair and waxed surfboards. There were bonfires every weekend and the whole town was invited. The food was incredibly diverse from all of the tourist who would come here, love it so much that they decided to stay, and then make a living from simply selling their cultural inheritance. The waves were perfect for learning how to surf. Everyone was sun kissed, athletic, and outgoing. It was a COVID safe haven and really felt like paradise.
Our routine was a 9am wakeup, a little bit of work, a morning surf, more work after lunch when the sun was a bit too hot for our liking, and then an evening surf as the sun set over the waves, before dinner in town, some food shopping for the next day, and perhaps some hanging out in the evenings on the weekend. That first week with Ayo and Nico we also went on a snorkelling excursion to a place called Tortuga Island and explored some nearby waterfalls. We may have gotten a little too sunburnt playing volleyball with some other tourists, but it was fine. We were happy.
Ayo and Nico left at the end of the week and Trenton and I stayed for another. We changed our accomodation to a smaller, more affordable AirBnB for just the 2 of us and our routine continued. We started getting pretty good at surfing and upgraded our boards to smaller sizes. We woke up one morning at 5:00am for a sunrise surf, a memory which I still hold dearly in my mind. We met more travellers and made some new friends. And finally, we booked our rental car to drive back through the jungle at the end of the next weekend.
Long story short, I had entrusted Trenton with the car logistics. I didn't have my driver's license and he was confident in his ability after having been re-taught how to drive a few weeks earlier in San Francisco from a friend (before that, he really hadn't driven since he was 15 in South Carolina). However, when he went to go pick up the car, he realised it was manual. It was not good news. To this day I don't even know how he managed to pull the rental car out of the rental store in a convincing way infront of the salesman. We were screwed. He had never driven manual and we had a 4 hour drive back through a foreign land, along with the Ferry he would have to park onto and pull away from. But it was the only way. Trenton spent 3 hours watching YouTube videos, we took a very stressful drive down the main road of Santa Teresa, stalling out a few times just on the flat, well-trodden roads, and then we were off.
I kid you not, the car's batteries nearly went bust on the first hill we tried to climb. He tried shifting into gear 2 midway up and the car immediately died. With traffic behind us, the pressure was on and despite his cursing, my calm demeanor, and multiple attempts to restart the engine, he failed. We had make all of the traffic reverse, as we slowly let ourselves back down the hill. Fortunately there was enough juice in the battery for one last attempt, and he pulled it off! We stayed in gear 1 for that hill, to say the least. From there, we had numerous similar situations. This was one of the most stressful car rides of my life. No music, I was on navigation the whole time, and every time Trenton stalled the car I had to calm him to the best of my ability while he started the engine again and tried to ease off the clutch even slower than the previous attempt. It was draining, challenging, and stressful. Yet, we somehow made it. We look back on the memory of this drive with a small amount of PTSD, and some good laughs. What an adventure.
We stayed the night at a hotel close to the airport and both flew out separately the next day. Trenton was headed back to Boston for a few weeks and I was to continue my travels. The next stop that I planned while in Costa Rica was North Carolina. I was headed to Duke University.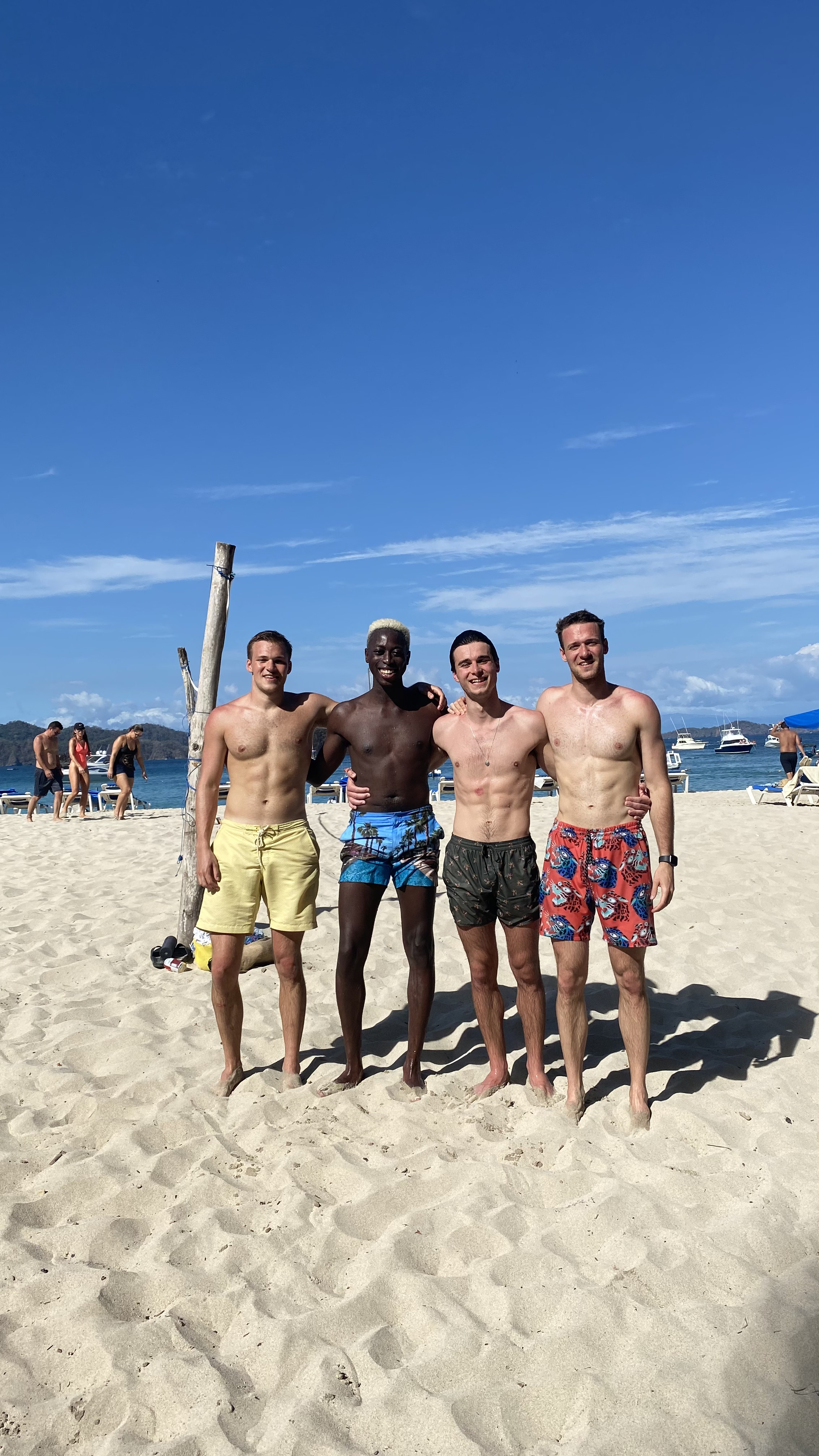 Me, Ayo, Nico, and Trenton in Costa Rica! This was the day we snorkelled, played beach volleyball, saw the waterfalls in Montezuma, and got a little too sunburnt.
March
I arrived in North Carolina, stayed a night at my relatives' house in Cary, North Carolina. I caught up with my aunt, uncle, and cousin. After my nonstop travelling for the previous 2 months, it was so refreshing to be in a familiar home environment. I had also shipped my repaired laptop to their house, so I picked that up which was so convenient. I relaxed, caught up on some work, went to the gym with them, and the next day my friend, Henry, picked me up in his friend's car. It was great to see a friend from school and it had been way too long since we had caught up. As Trenton went to Duke, I was familiar with how everything worked. However, I was not necessarily prepared to be thrown immediately into meeting all of Henry's frat brothers at their freshman selection event. This is exactly what happened.
It was interesting seeing what life at Duke was like for Henry. We are quite similar in a lot of ways, so seeing his experience was almost like seeing an alternative timeline for myself in which I went to Duke instead of Minerva. His friends were super welcoming, his classes seemed challenging, and his existence seemed fulfilling. Despite that, it seemed like they lived in a bubble. It was easy letting the days pass at Duke; you saw the same people, did the same things, and stayed in the same place. Don't get me wrong, the week was fun hanging out with Henry and his friends despite some COVID difficulties we ran into. Yet, it seemed so insulated and comfortable when compared to Minerva. I could have seen myself loving it for the first semester or maybe year; but beyond that, just as my brother and sister had told me, the bubble of campus life easily gets to you and time simply flies by. I find that idea scary.
Speaking of COVID, Henry's flatmate literally contracted it the day I arrived at Duke, so that really killed the vibe. He had to isolate and we were all worried about having contracted it as well, so we stayed inside for 4 days before getting tested. At least it gave me some time to finish off some assignments. I tested negative that Thursday so I was able to go out and catch up with some other Duke friends from the UK. I got invited to a pick-up football game, went on a Hinge date, saw a mutual friend, and finally spent the Duke vs. UNC yearly basketball game at UNC with my cousins and their friends. I made the right choice that evening, because fortunately UNC won and I could celebrate on their campus (although deep down I'm a Duke fan).
The next day I had a flight out of Raleigh to Chicago to stay with my older cousin, Michael, on the same side of the family. Henry's flatmate kindly drove me to the airport and we said goodbye. It's always nice to meet friends-of-friends and get along so well. I had never been to Chicago, so I explored the subway for the first time from the aiport and arrived at my cousin's apartment! I met his roommate, he showed my around his neighbourhood, and we got some really yummy food. It was fantastic to catch up.
The next day I met up with my old friend Arthur after doing some work. He showed me around UChicago, I was invited by another British mate, Charlie, to check out his fraternity, and then I went back up to my cousin's for Taco Tuesday, a tradition he and his friends uphold. It was a super memorable time. And then it got a bit ugly.
I started feeling a little sick later the next day and felt some COVID symptoms coming on. I slept horribly that night on my Michael's sofa and knew I needed to get tested the first thing the next morning. It came back positive. Uh oh. Duke must've given it to me, and it must've been on that last day, maybe even in the car to the airport with Henry's flatmate. They called me later that day as well and all had tested positive. It was bad. I immediately booked a hotel room and isolated away from my cousin. We had so many other plans for that week but they were all cancelled. I pushed my flight to Miami back and stayed an extra week in Chicago, quarantining. Fortunately my cousin had his girlfriend's place to stay at, so after the first couple nights in the hotel which gave us time to figure out the situation, I could move into his room.
The week passed and I caught up a lot on my work. I had a couple nights of a fever and a sore throat, but not much else. I was lucky Michael was so accomodating and I didn't have bad symptoms. I ended up not spreading it to anyone else as well, which was huge. It meant my final day in Chicago, after being released from quarantine, could be the St. Patrick's Day party we had cancelled from the week before! Michael invited all of his friends, our other cousin, Brett, came from Milwaukee, a bunch of my British friends who knew Michael from UChicago came, and we had the best time.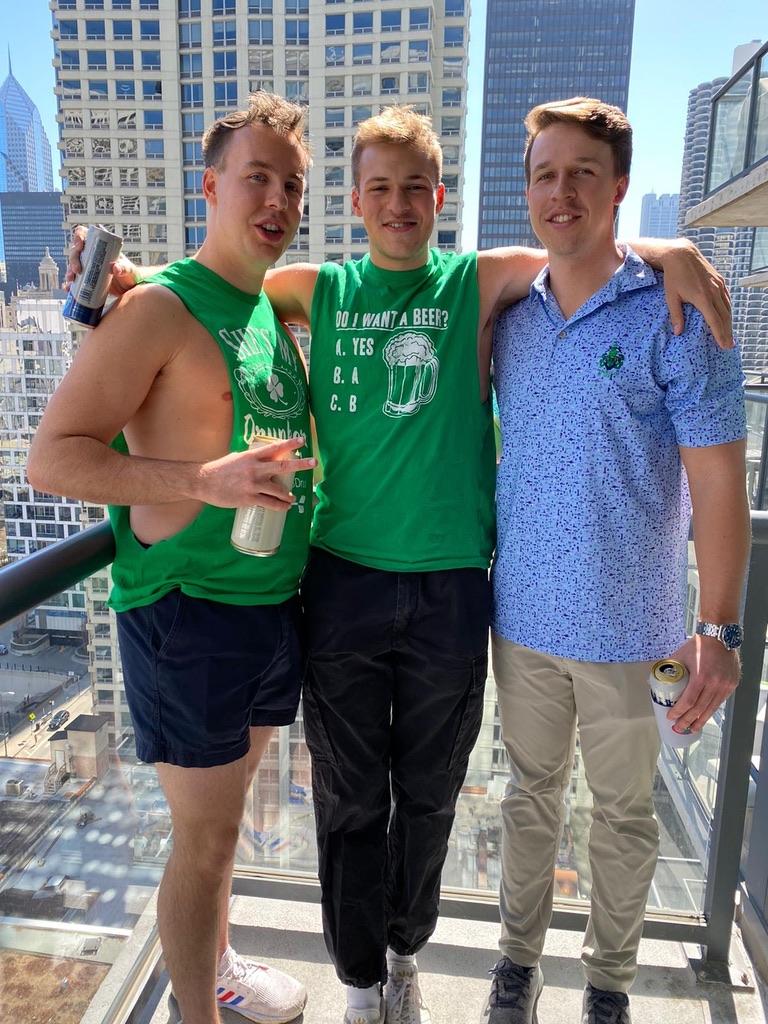 Michael, me, and Brett at the St. Patrick's Day party. 3 cousins from 3 different families. Michael thought these shirts were funny so he bought them on Amazon!
Brett drove me to the aiport the next morning and I was off, yet again. This time to Miami. My Minerva friends Pedro, Amenti, Mani, and Kuba had flown out to Miami 2 days ago and were staying at Pedro's mate, Rafael's apartment. Rafael was a legend and such a good host. It was a wild week. We explored the city, taking advantage of our spring break. I got to see some old friends, Tadhg and Alec, from a service trip I did to Ecuador when I was 15 because they were coincidentally in Miami at the same time. One night we drove up to Orlando to see the University of Central Florida, where Rafael studies. We went to a couple parties (my friends were vaccinated and I had just had COVID), and we spent a bunch of quality time together. I definitely missed my Minerva friends.
After that week I coordinated with one of my best childhood friends, Felix, about heading up to his house near Palm Beach in Florida. His parents flew in from London and picked Felix and me up after Felix spent the last night at Rafael's place with us. It was so nice to be back in a warm, home environment. Felix's family always takes such good care of me and I couldn't thank them enough for hosting me at their place. We rode bikes, worked out on the beach, ate brilliant food, and I caught up on work. It was so much fun and fantastic to see Felix and his family.
The last few days in Miami I spent at my grandma's house and uncle's house. Family really is the world to me and it was so nice to see them. My grandma is the sweetest woman and I'm so lucky I could spend some quality time with her. My uncle and his girlfriend showed me their life, treated me to some great food, and gave me time to relax. I left Miami feeling rejuvenated.
From there, I headed into the final lap of my trip. I flew up to New York.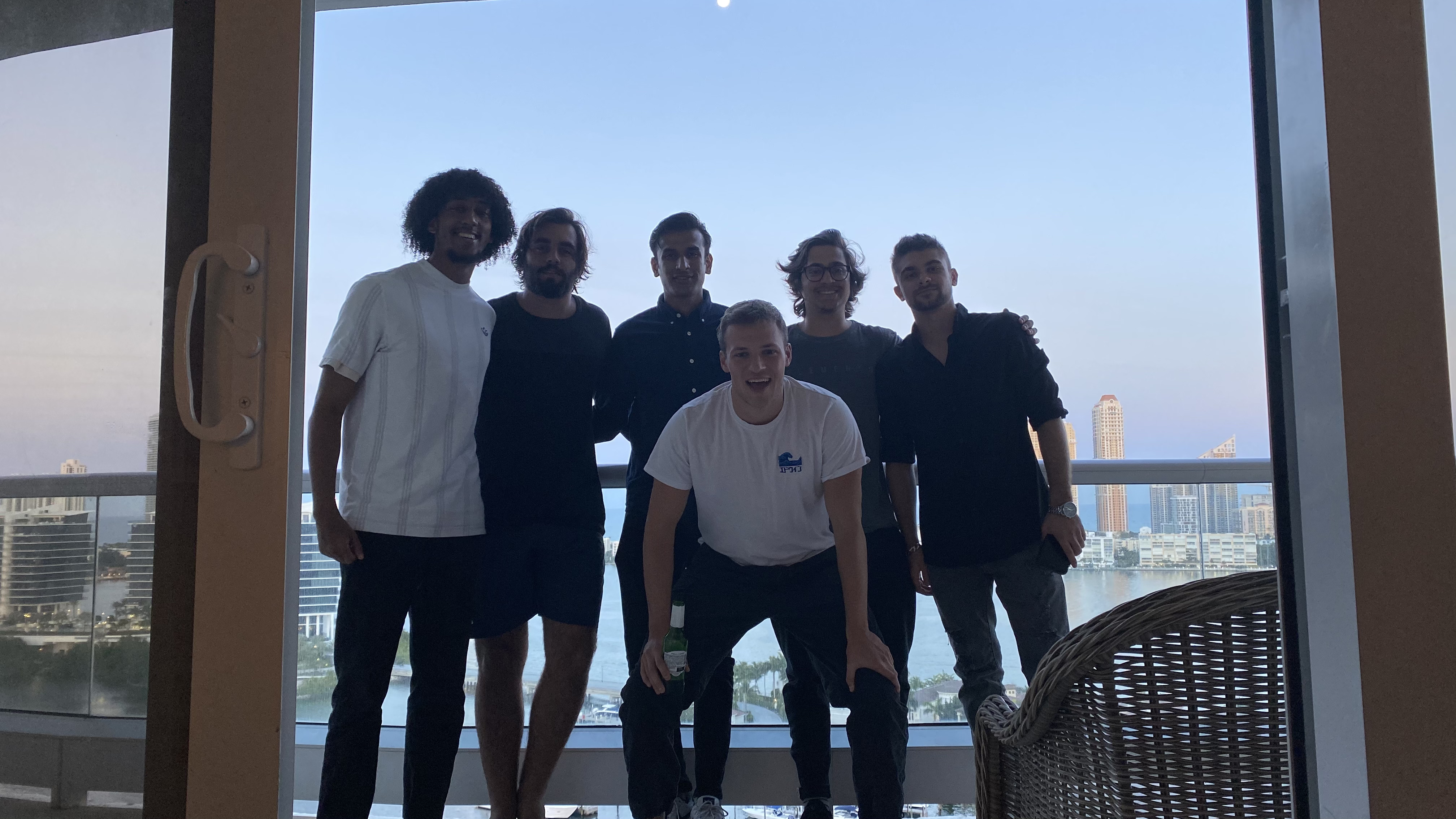 My Minerva friends and Rafael in Miami! (Amenti, Rafael, Mani, Me, Pedro, and Kuba).
April
I was staying at my sister Grace's apartment for two weeks and was finally able to experience New York as an adult. Trenton arrived the day after me and he was staying for a week as well. Our plan was to explore the city, catch up with friends, and spend time as siblings. We met up with an old family friend, Ellie, in Booklyn and went thrifting. Trenton and I cycled through Central Park and met up with Ayo and Nico again at their apartment up near Columbia. It was awesome seeing them again after Costa Rica and meeting all of their friends. We also went to Chinatown and I ate some of my favourite American Chinese food: sesame chicken.
In my downtime I started finishing up my classes for the end of the semester and finals began. Grace was busy with work and Trenton left back to Boston. I saw more old friends including Eli who I met from a tennis camp, and Mila, a friend from London. I spent a night or two up at Columbia at Ayo's flat, saw Nico, met more of their friends, and they invited me to a fun apartment party.
Finally, I cut my trip short. I didn't have the time to make it to Boston and stay with Trenton and Daniyal so I booked my flight back to London on April 21st. I needed to get back, finish up my finals, survive through my 10-day quarantine, and do some final preparation to start my internship at Amazon on the 3rd of May. It was the end of the adventure.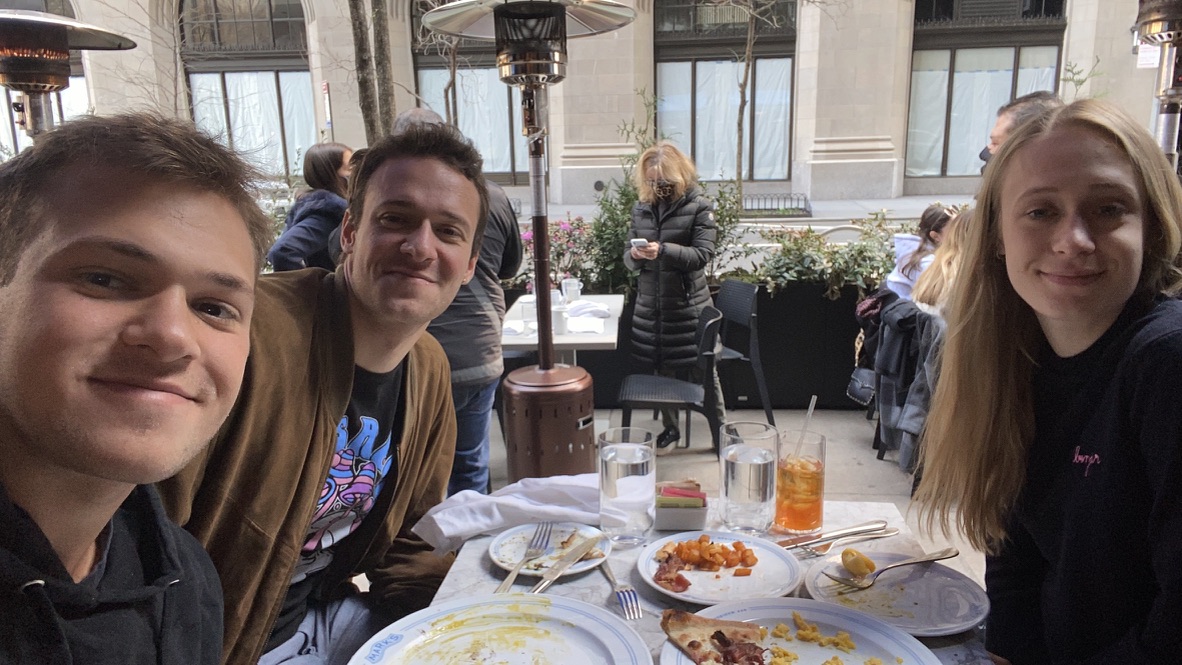 The three siblings in New York on Easter Sunday.
---
I honestly cannot describe how memorable this semester was. Every week was distinctly different and so full of love from friends and family. I am so fortunate to have people in my life that are always there for me.
My travelling retaught me how to make the most of life. Yes, I was working a lot and I really have only described the crazy, fun parts of my travels above. However, these memorable moments really only happened because I had enough energy to stand up and get out of the door every day. It is far too easy in life to expect experiences to come to you. Rather, you should constantly be seeking to push and pull life in the direction you choose. I found a happy medium during these four months; I still got straight A's on all of my classes, and honestly had one of the best times of my life, despite the global pandemic, contracting COVID myself, and spending less money than I otherwise would have just holed up in San Francisco.
I wouldn't hand back some of these memories for the world. Thank you to my family for supporting me. I love the people in my life.
---
This is a habit for every Minerva semester. Stay tuned for 2 more chapters. My senior year. Time flies too fast.